Outfit Of The Yesterday: Layers & Lace (& A Happy Heart Day)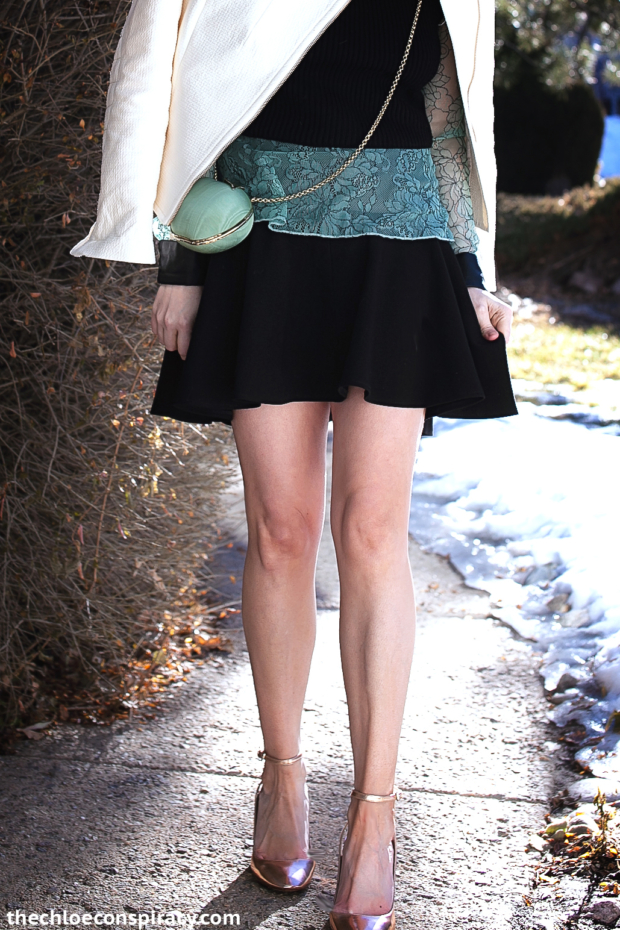 It's a little hard to see in these pictures, but the ZARA jacket that I am wearing below has rose gold hardware and zips. I do often wonder if the rose gold trend is going to die anytime soon, but given the fact that I have seen it still incorporated into nearly everything (shoes! bags! belts! headphones! and now jackets) I think it is going to stick around for a little while longer. Which I definitely don't mind–I have lots of it in my wardrobe, and it's always nice to find things that match up.
I wore the outfit below (sans hat) out on a date for Valentine's Day.  Husband and I went out to eat at a restaurant that I won't name (mostly because my chicken both tasted and felt like band-aids, the violinist awkwardly asked us to request a song for her to play and for some reason "Play That Funky Music" from Vanilla Ice was the ONLY thing that popped into my head which I did not say but I then had cycling through my head for the rest of the night nonstop as some sort of bizarre cerebral punishment, and our dessert took a good hour to arrive in which we then got to spend that hour listening to that same violinist play a rousing, never-ending medley of "I'll Make Love To You" by Boys II Men for the entire 60 minutes as apparently none of the other diners had requests, either), which….was okay.
It was fine, actually. It was. It was better than okay. It was good. Not a bad night at all. All restaurants have their off-nights, and it reminded me that one of the things I truly dig about my husband is that he and I generally manage to entertain ourselves and have a fairly good time no matter where we are; no matter what kind of goofy situation we are in. Making funky music love to chicken band-aids for 60 painful minutes and all.
Besides–the bushy-eyebrowed chef, once he finally arrived to our table, lit our dessert on fire and so that was awesome. And it immediately made up for everything that had been lackluster and wrong, just like how the universe (and Jim Henson) dictates that all food properly set aflame by bushy-eyebrowed chefs should. It's a risky business, bork bork bork.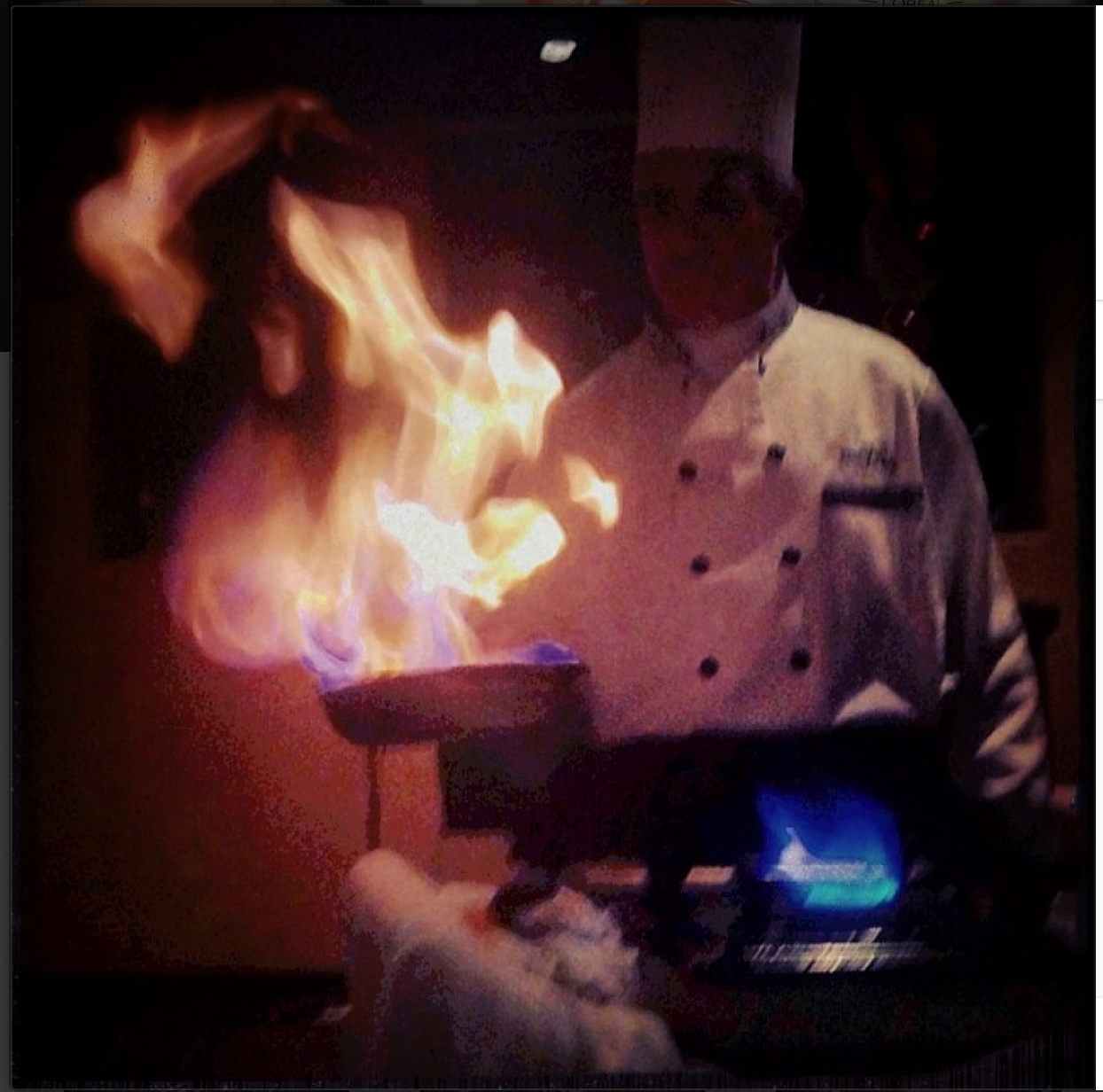 It felt like he was going to singe my face off. And with that, I hope you guys all had a happy Valentine's Day, too. ♥
Jacket: ZARA Jacket with Rose Gold Zips (buy it here) (similar under $100) (similar under $50)
Green Lace Top: ZARA (buy it here)
Black Sweater Vest: Club Monaco Joline Cropped Sweater (buy it here) (similar under $50)
Skirt: Tibi, old (similar here) (similar here, on sale) (similar under $50) (last worn here)
Shoes: ZARA, old (similar here, on sale) (under $100)
Bag: Anya Hindmarch Apple Clutch, old  (similar here) (similar here) (cute heart bag from Kate Spade) (last worn here)
Hat: Eugenia Kim, old (similar here) (similar under $50) (last worn here)