Outfit Of The Yesterday: Mint + Camel + Black + Rose Gold (& J Crew Leather Love)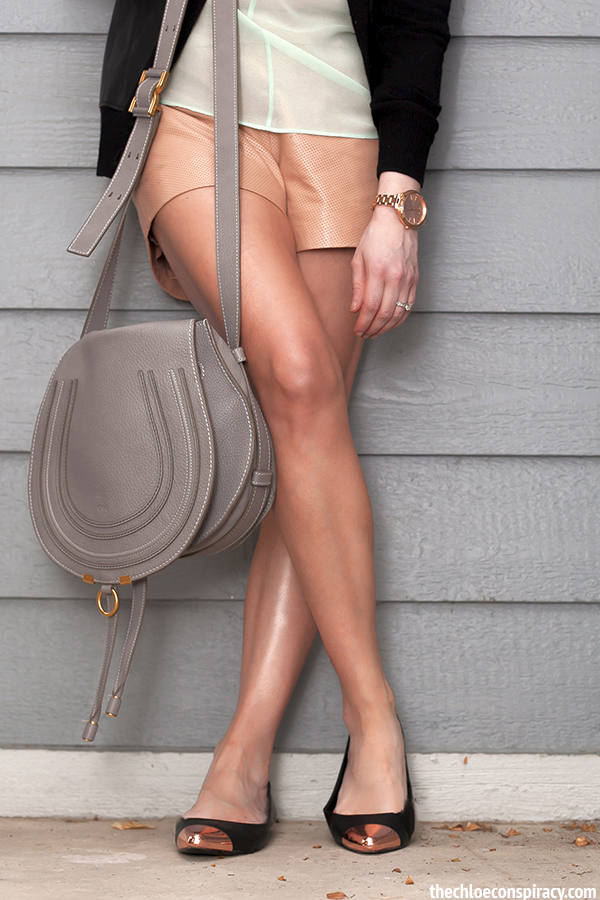 We had my twin sister (& her husband) hanging tough with us over the past couple of weeks, which is always a lot of fun. They brought a friend of ours who had never been to Colorado before, and it was neat to be able to show off our area and all of the super tourist-y attractions that I hadn't been to in nearly a decade. If you are lucky enough to live in a prettier locale, it is also pretty easy to forget exactly how pretty it is when you see it everyday.
Kind of like how my great Aunt Helen in South Dakota had wallpaper that looked like a real forest-y mountain range in her dark and dimly lit dining room when I was a kid. I bet she forgot how pretty that was, too, which is exactly why she never replaced burnt out lightbulbs in her dining room area, and eventually left the wallpaper behind; still clinging half-heartedly to the wall when she moved. Nothing weird at all about wanting to eat dinner in a faux, faded, peeling woodland (no offense to Beatrice & Woodsley good food nom) but holy pants–I am glad I was alive just enough in the 80's to barely remember it and its freaky home decor. Here we go mistaking weird weathered wallpaper shrouds for mountains.

I digress! So we did everything from A Casa Bonita to Zee Garden of the Gods (with some finer dining choices, events, and adventures thrown in for good measure too) and it was a blast! But I am tired. Two solid weeks of a nonstop Colorado Food Adventure Shopping Hot Tub Hula Hoop Party wears a girl out. I will be working on a little "Colorado Visitors Guide" to post up here on this blog in a bit–including some of the things we did over the past few weeks (and some of my favorite things to do when we aren't trying to scare people away from moving here and/or give them food poisoning, too). Stay tuned!
On to an outfit! Nothing too fancy here. I have been living in these J Crew Collection leather shorts lately–love them:
 Cardigan: J Crew, old (similar here) (similar under $100) (similar under $50) 
Top: ZARA, old (similar under $50) (similar under $50) (similar under $50)
Shorts: J Crew Collection (buy them here – on sale) (similar under $100) (similar here – 50% off)
Watch: Michael Kors (buy it here) (similar here, on sale) (similar here, on sale)
Shoes: Messeca New York Flats (buy them here – on sale) (similar here, on sale)
Bag: Chloe Marcie Crossbody in Cashmere Gray (buy it here) (similar here) (similar under $50)