(Outfit Of The Yesterday) Joie A La Plage Sable Double Strap Sandals + J Crew Flared Surf Skirt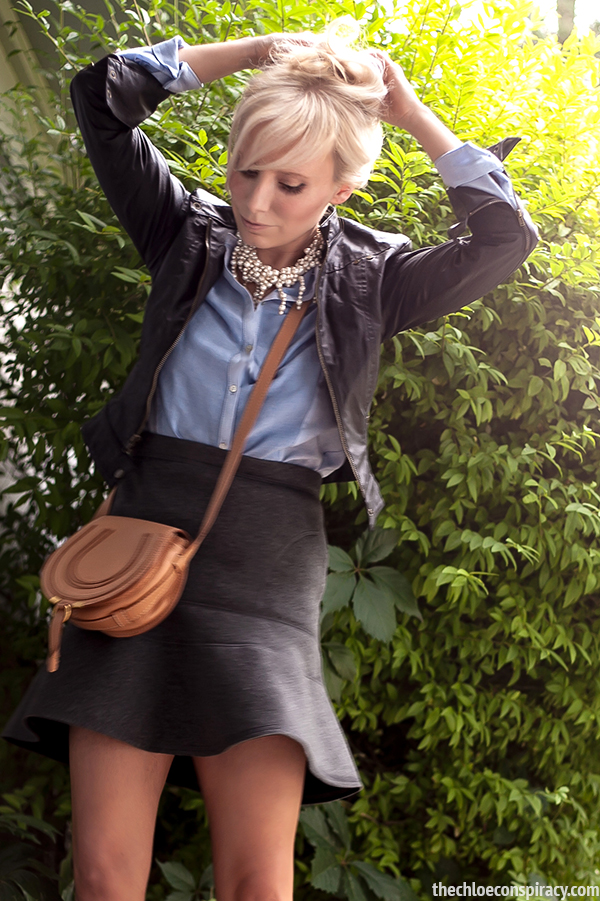 I have found that one of the easiest, lazy, no-brainer ways to pull an outfit together is to match cohesive pieces, which is why I was pretty darn excited to find the Joie a La Plage Sable sandals. I managed to get them on sale with an additional 40% off at Piperlime a few weeks ago and I have been really, really happy with them. They are simple but surprisingly comfy–I have really high arches so flat shoes tend to be achy, but not these. At least not yet–I have been wearing them pretty much nonstop since getting them, through wind and rain and farmers markets, and have not had an issue yet.
And since they are tan & rose gold, they also match several pieces that I already have in my closet. They're a near perfect match to my Chloe Marcie Crossbody in Milk Rose. Solemates.
Jacket: Emerson Fry, old (similar here) (similar here, on sale) (similar under $100)
Top: H&M, old (similar here, on sale) (similar here)
Skirt: J Crew Flared Surf Skirt (buy it here – on sale) (similar here under $25)
Necklace: ZARA (buy it here) (similar under $10) (love this necklace, too)
Watch: Michael Kors (buy it here) (similar here, on sale) (similar here, on sale)
Shoes: Joie a la Plage Sable Sandals (similar here) (similar here) (similar on sale) (similar under $50)
Bag: Chloe Marcie Mini Crossbody in Milk Rose, old (buy it here) (similar here) (similar by Tory Burch) (similar under $50)