Outfit Of The Yesterday: LOFT Cotton Twill Cadet Jacket & Chambray Henley Shell (Olive + Coral + Gold + Chambray)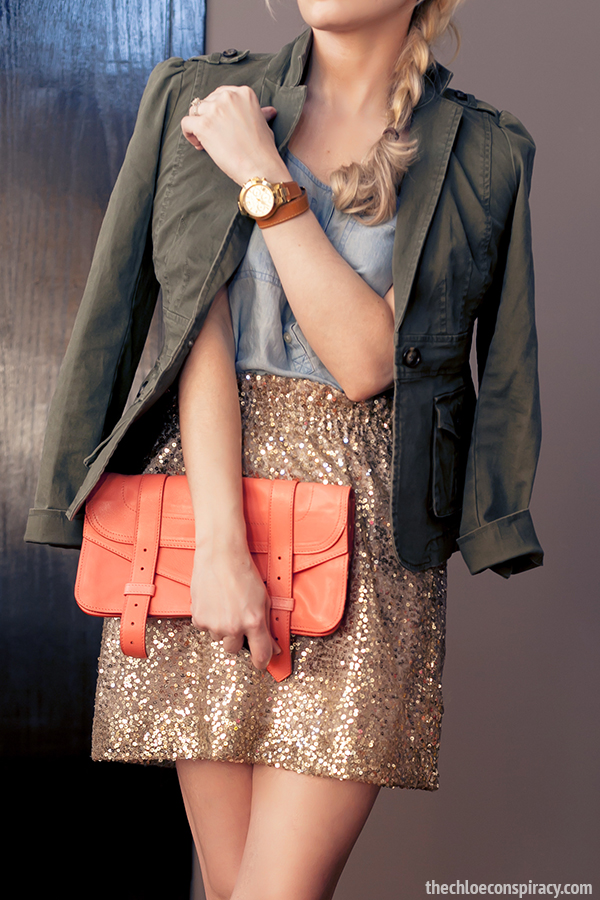 Just a quick little post + some reviews! I picked up the Cotton Twill Cadet Jacket & Chambray Henley Shell during a recent sale at LOFT, and I really like both pieces. The Cadet Jacket has the slightest of slight peplum hems that gives it a nice, slightly girly shape…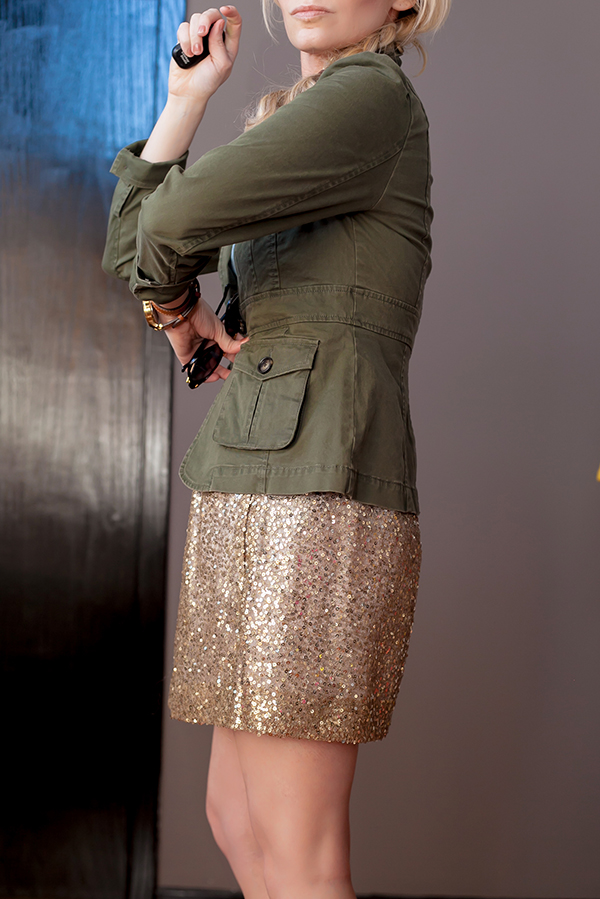 …and same goes for its puffed shoulders. They are barely noticeable, but a cute detail nonetheless, and helps elevate this jacket from a casual cotton weekend cover-up to something that can work 9-5 during the week, too. It runs a little big–I sized down one size from my typical LOFT size in jackets and still have room to spare. My only gripe is the length of the sleeves, which is something I've been having problems with lately in LOFT jackets. They're a touch long for me, but are easy to roll & push up without making the jacket look too sloppy.
The Chambray Henley Shell has been a fun little addition to the closet as well. For whatever reason I've shied away from chambray, but admittedly got hooked after spying this gorgeous combo currently making the rounds on Pinterest:
Chambray with a girly skirt? Good stuff. Like the jacket, the shell does fit a little big–which is intentional. I tried it on in both petite and regular sizes, and definitely recommend that petites stick with the petite sizing on this one. The top has an a-line shape, and the regular-sized top looked like a drunk little tent on me. The petite length was much, much better.
Both pieces are currently 40% off at LOFT with code "SHAREIT", too. Hooray! How do you guys like to wear chambray?
 Jacket: LOFT Cotton Twill Cadet Jacket (buy it here) (similar under $50) (similar under $50)
Top: LOFT Chambray Henley Shell (buy it here) (similar under $25)
Watch: Michael Kors Wrap Watch, old (similar here) (similar under $100)
Skirt: J Crew, old (similar under $100) (similar under $100)
Shoes: J Crew Valentina Pumps, old  (similar under $100) (similar under $75)
Bag: Proenza Schouler PS1 Clutch, old (similar here) (similar under $200)
Sunglasses: Yves Saint Laurent Vintage (similar here) (similar under $50)