Outfit Of The Yesterday: Floral Prints & (LOFT) Camo Pants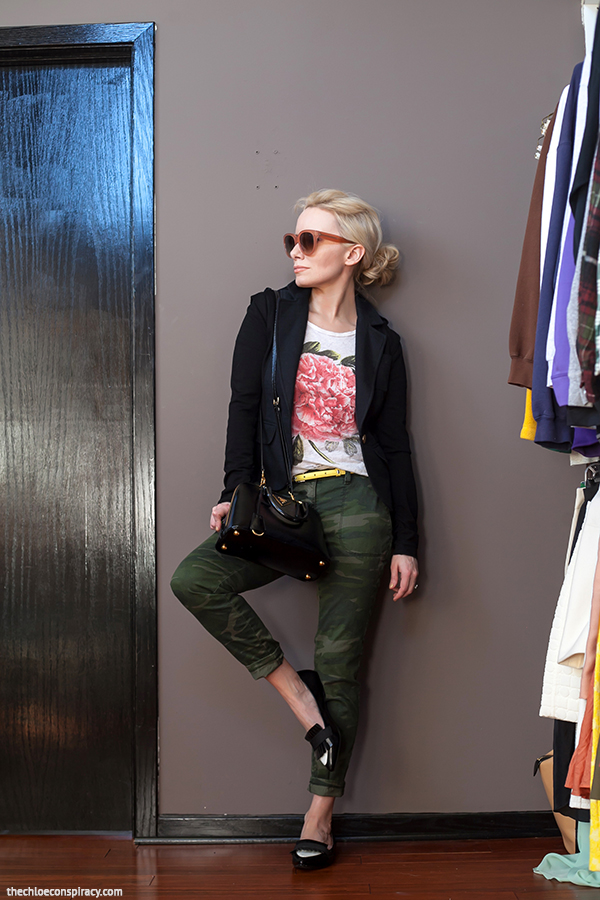 Camo Print Tailored Twill Skinny Pants in Julie Fit – LOFT.com

A little casual today in a bit of camo. One of the more frustrating things about being petite (and having an inseam of around 28-29″) is finding pants that are both comfortable and flattering. Throw in that I have a bit of an unusual body type for a woman (I'm an apple shape with no hips and carry the majority of any extra weight in my belly) and it can be downright maddening. Hence why I rarely wear pants.
I've had really good luck with the Zoe Fit from LOFT, but the Zoe Fit only comes in limited styles. The Marisa Fit should be a good fit for someone with no hips or defined waist, but they tend to be cut too low in the rise and with my apple-shape, that means insta-muffin top. It also means that my short legs look even shorter–not a good look.
I tried the camo pants that I'm wearing below in the Julie Fit on a total whim, mostly because curiosity killed this cat. The Julie Fit is meant for 'curvy' girlies (those small waists and bigger hips), which I am not, but I was happily surprised with how much I liked how they fit on me. The rise is much higher than the Zoe fit and hits just below my belly button, so they instantly banish muffin tops and help visually elongate my shorter legs. The fabric is lightweight and soft with a little bit of stretch. They fit fairly true to size and I got them in the size I normally wear at LOFT.
I really, really like them–well done, LOFT!
 Jacket: Tibi, old (similar here + take 10% off w/ code "EXTRA") (similar under $100) (similar under $25)
Shirt: J Crew, old (similar at Factory) (similar here) (similar under $25) (similar here)
Belt: The Limited, old (similar here)
Pants: LOFT (buy them here) (similar here) (similar under $50 + take 25% off w/ code "SUN")
Loafers:  ZARA, old (similar under $100) (similar under $100) (similar under $100)
Bag: Prada (buy it here) (similar by Tory Burch) (similar under $200) (similar under $50)
Sunglasses: Celine Audrey Cateyes, old (similar here) (similar here) (similar under $25)