Outfit Of The Yesterday: Leopard & Sequins & Cat Eyes, Oh My! (+ The Prada 54mm Round Cat Eyes)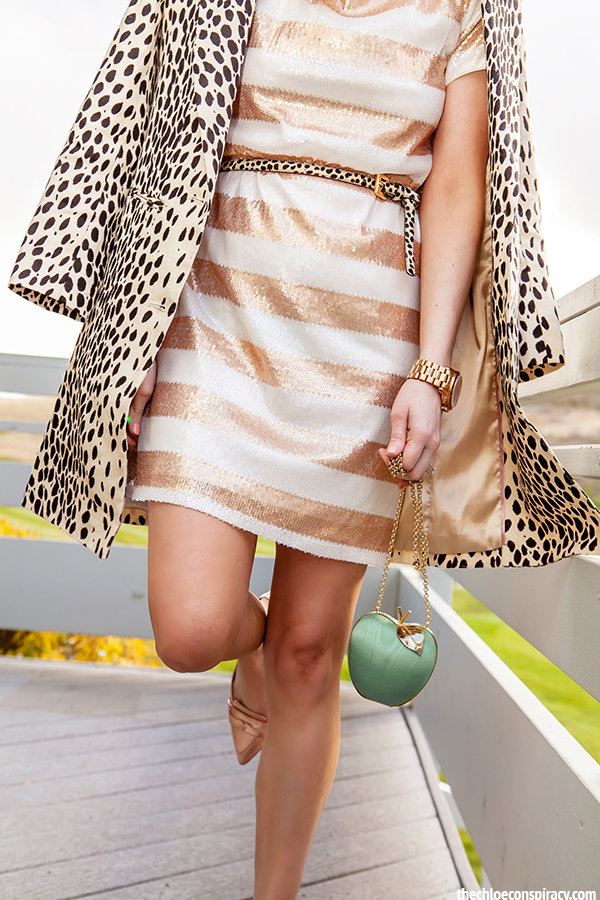 In spite of running into some snow during our excursion to Steamboat Springs up in the mountains a few weekends ago (you can see the incriminating evidence over on instagram), the weather outside of the mountains and down in the city has been oddly lovely and warm and mild. I know I don't have much time left to wear short dresses and bare legs, so I'm taking advantage of it the best I can.
I've also been making good use of my Emerson Fry leopard wingtip coat lately. One of the most common questions I get asked is where a person can find this coat–and the bad news is that you can't, because it's two years old and no longer available. But the Emerson Fry Tailored Coat in Black Coated Tweed
is pretty much the same coat, just in a different fabric, and I've also linked to a few other leopard-y options I found around the internet too, below the photos–so check them out.
(I also paired my dress with the Ann Taylor Perfect Cheetah Print Calf Hair Skinny Belt, which is a near freaky perfect match to the print of the coat–so if you really like the print, you can still get a similar splash of it for yourself! Kinda. And it's currently 50% off with code "FASHION50", too.)
The dress I'm wearing below was a bargain $25 find from Forever 21, also from about two years ago. They bring back styles every now and then, and I really wish they'd bring this dress back–it's fully lined in a thick, soft jersey fabric that reminds me of my favorite pajama pants. Which is awesome, because sequins are pretty much the exact opposite of soft. A sequin dress that's comfortable to wear? Unheard of. Bring it back, Forever 21!
And last but not least–I picked up the Prada 54mm cat eye sunglasses at Saks Fifth Avenue's Friends & Family sale last week, and they might just be the most perfect pair of shades I own. Not too big, not too small, not too cat-eyed. Meow?
I hope you guys have been well & able to get out and enjoy some of the great (but quickly fading!) fall weather, too!
 Jacket: Emerson Fry, old (similar here + take 25% off w/ code "FRIENDS") (similar here) (similar here) (similar here) (similar here)
Dress: Forever 21, old (similar under $50) (similar here) (similar under $50) (similar here, on sale) (similar here, on sale)
Belt: Ann Taylor (buy it here + take 50% off w/ code "FASHION50")
Watch: Michael Kors (buy it here) (similar under $150)
Shoes: Elorie, old (similar under $50) (similar under $100) (similar here)
Bag: Anya Hindmarch Apple Moire Bag (buy it here) (similar here) (similar here) (similar here)
Sunglasses: Prada 54mm Cat Eyes (buy them here)