Outfit Of The Yesterday: The J Crew Belted Chino Shirtdress (+ My Tips For Soft & Glossy Lips, Part Two)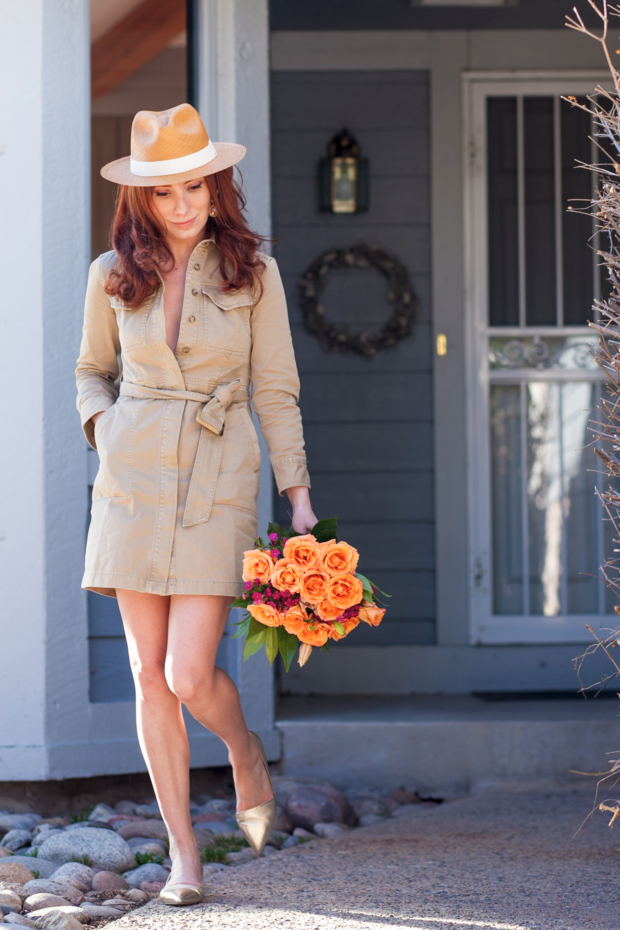 Hooray, it's finally here! I hope you guys have been having a great second day of spring. It's my favorite season–Easter is right around the corner, March Madness is in full swing (we had the opportunity to watch Iowa State vs. Arkansas Little Rock and Utah vs. Gonzaga with some friends at the Pepsi Center in Denver on Saturday and it was tons of fun–even if the games themselves weren't that exciting), and some of the trees around here are even starting to bloom! Which yikes? It might be a little too early for that, but I definitely love it when the world begins to get some color again. We will cover them up if it snows. Blankets for bushes! That's springtime in Colorado.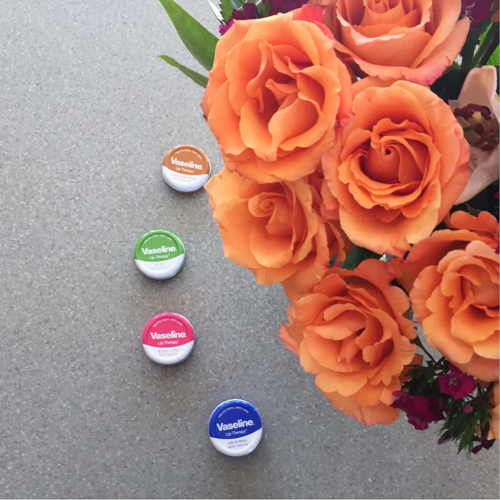 Speaking of springtime, I am bringing you guys Part Two of my Beauty Talk: Tips for Soft & Glossy Lips series today, sponsored by Vaseline. When Vaseline reached out and asked if I wanted to personally review their new Lip Therapy Tins, I gave them a resounding heck yes. As I mentioned in Part One of this series, I deal with chapped lips a lot. And I especially deal with chapped lips a lot this time of year, as the weather fluctuates in Colorado between sunny & warm and cold & snowy on a seemingly daily basis. It definitely does a number on my lips, and my husband's lips, too–he's always stealing my lip butters and balms. 
Vaseline has recently introduced four new Lip Therapy Tins here in the United States: Original, Aloe, Cocoa Butter, and Rosy. They sent me all four varieties to try, and over the past few weeks both my husband and I have been testing them out & about in the dry, arid climate of our "Mile High" home. Here are my thoughts:
Original Lip Therapy: This tin is uncolored and unscented–making it the perfect multi-tasker. It pairs well with all of my favorite lip glosses & lipsticks, and it adds just a hint of glossy shine to my lips when I use it for touch-ups throughout the day. It's also packed full of shea butter, so it adds a touch of softness to my lips as well (although I probably liked the Cocoa Butter best for softening my ultra-dry chapped lips). 
Cocoa Butter Lip Therapy: As I mentioned above, this tin is amazing at adding lots of softness to my dry and chapped lips! My lips have always respond well to lip products containing cocoa butter, and this is no exception. Even though it has magical softening powers, it doesn't go on heavy or sticky. Best yet? It smells amazing–like a sweet coconut cookie. 
Aloe Lip Therapy: Think aloe vera is just for sunburns? Think again–the healing properties of aloe also work well to help heal dry, chapped lips. This Lip Therapy Tin contains just three ingredients (petroleum, aloe barbadensis leaf extract, and flavor), and it definitely feels the most soothing on my lips. It also feels the lightest on my lips, and I was pleasantly surprised by the scent and taste–I expected something medicinal, but it actually smells sweet, fresh, and slightly fruity. Before my husband stole this one from me, I used it often on colder, windier days. It's safe to say: this one was my husband's favorite.
Rosy Lip Therapy: This tin was my favorite tin of all, and I am also wearing it in the photos below. Like the name suggests, this Lip Therapy Tin has a light rose scent. It is also the only Lip Therapy Tin that has a touch of color–it's a medium blush red hue in the tin, but goes on as a sweet & pretty pink on the lips.  It's like your own lip color–but better. The only drawback is that the rose scent does linger for awhile, so I definitely do not recommend using this before eating. Unless you love eating roses–then who am I to judge? Happy snacking.
All in all, I genuinely love all of these tins–they're cute, they're perfect for stashing in handbags (and with husbands) without taking up too much room, and I think they all live up to the promise of soft and smooth lips. They're also available in most drugstores for under $5 a piece. Living in Colorado, I will probably never have flawlessly luscious lips–but these absolutely help. Thanks so much for sending them my way, Vaseline!
Now for an outfit! I've been living in my J Crew Sloan D'orsay flats lately–they're incredibly comfortable and match pretty much everything. The perfect little spring shoe. And they're currently 25% off with code NEWNEW–now through tonight!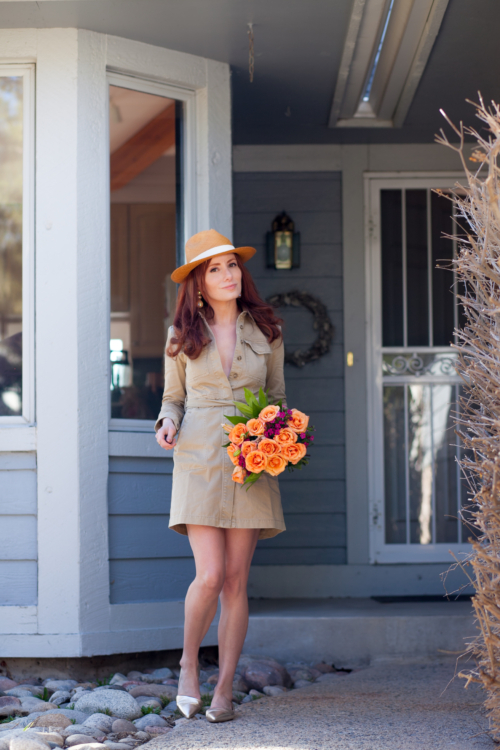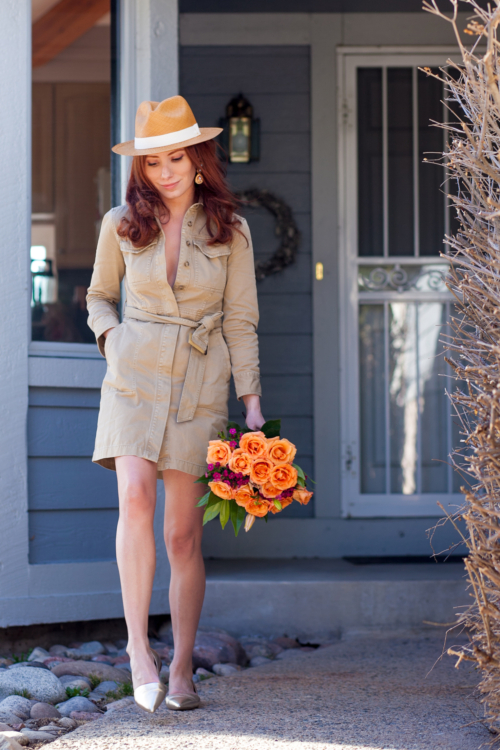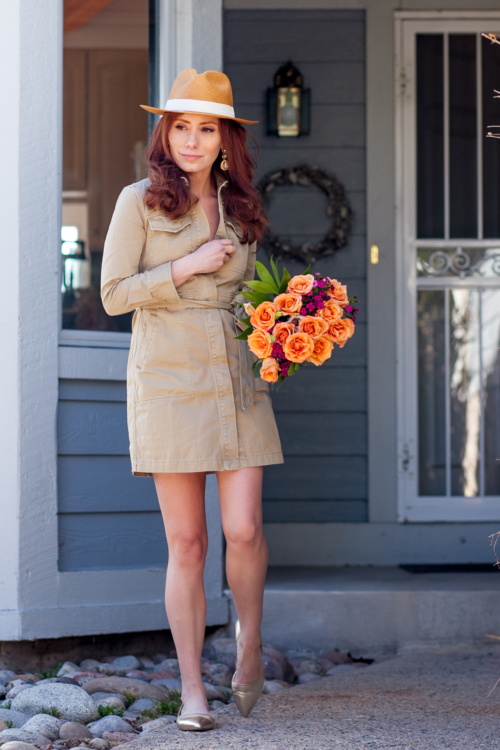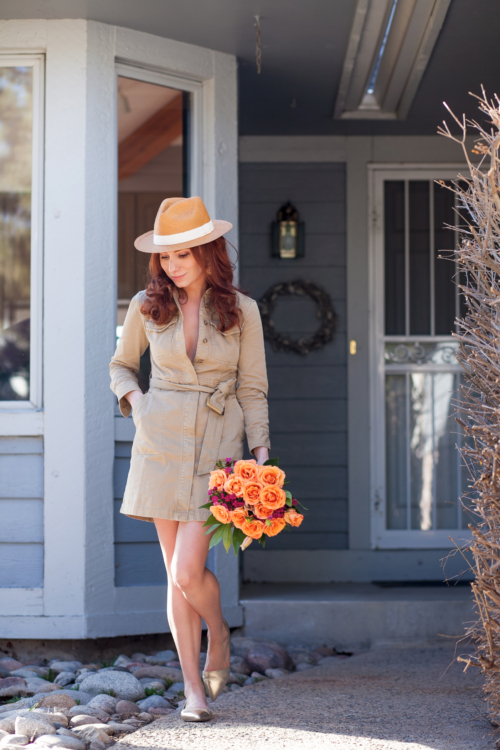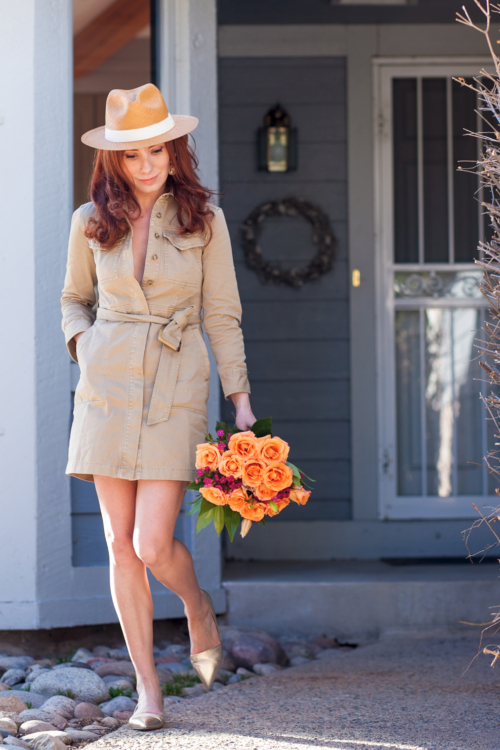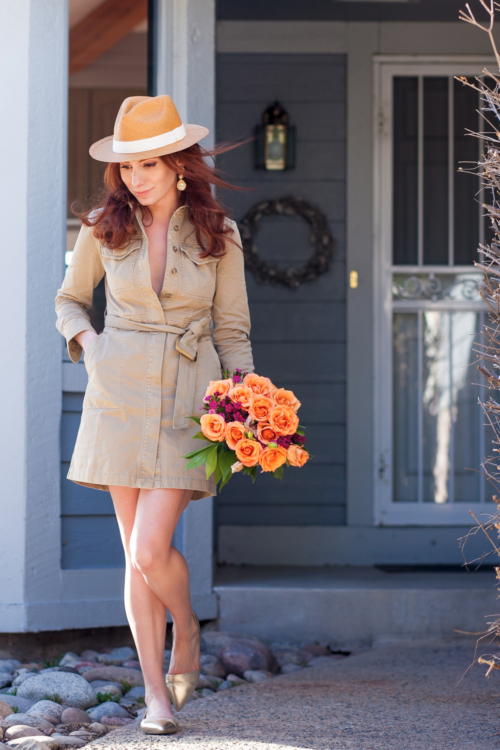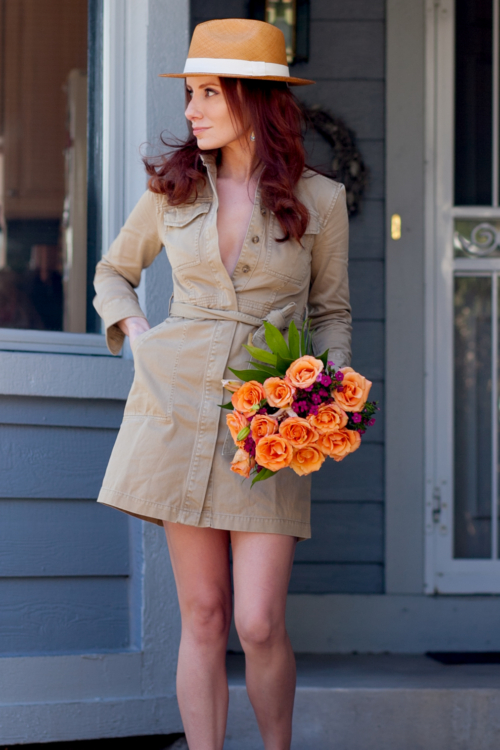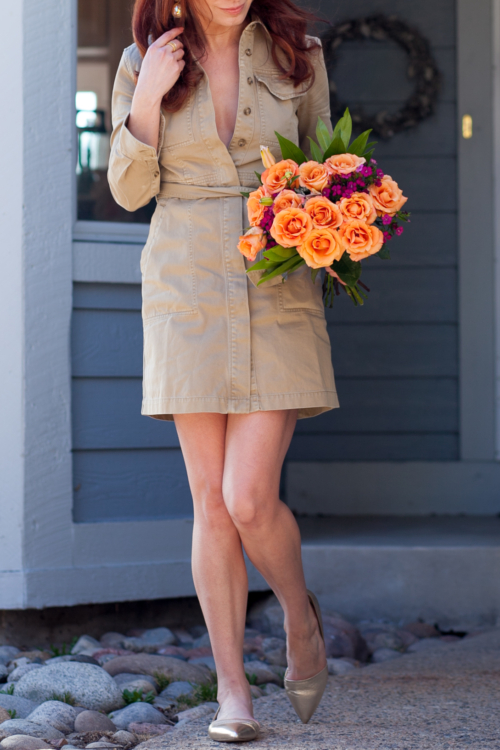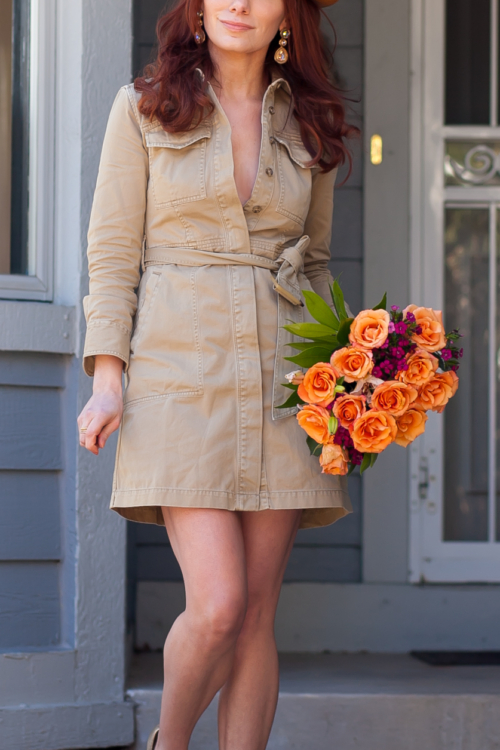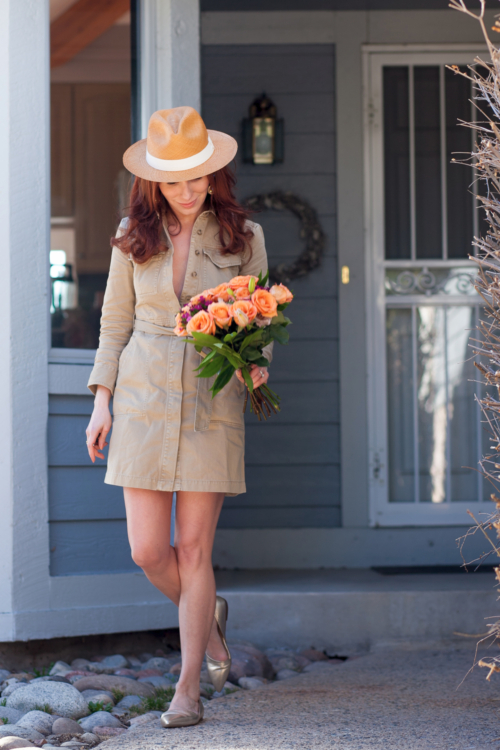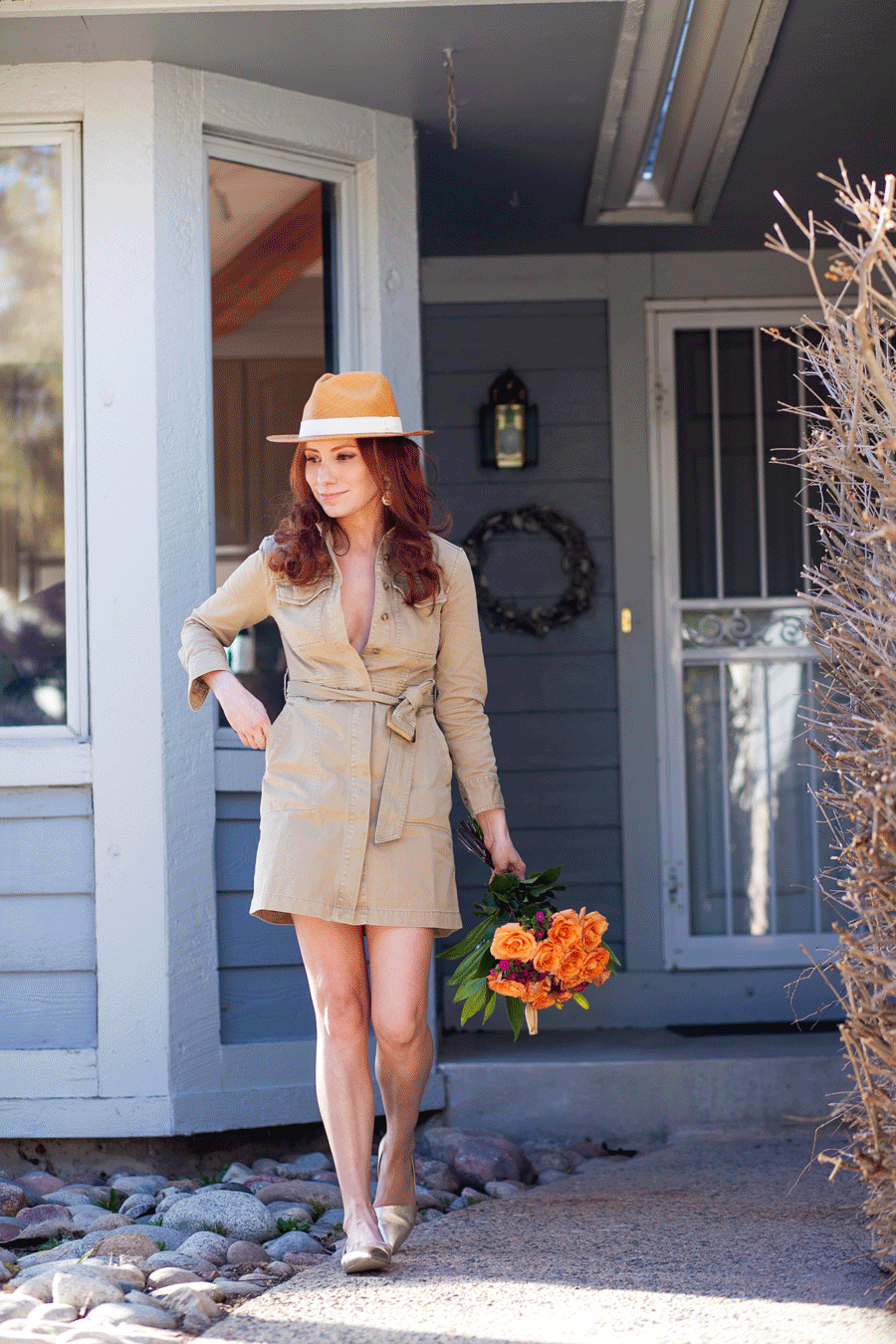 HAT: J Crew (buy it here – currently 25% off) (similar under $25) 
DRESS: J Crew (buy it here) (similar under $50) (similar under $50)
EARRINGS: J Crew (buy them here – currently 25% off) 
SHOES: J Crew (buy them here – 25% off) (similar here) (similar under $75)
LIPS: Vaseline Lip Therapy Tin in Rosy (see it + buy it here)
*Deals listed above are good for a limited time only! Make sure to check out The Big List of Daily Sales & Deals to see all current promotions & discount codes for all of the retailers featured above.