Sephora: Take 15% Off On Your Entire Purchase (+ Shop My Beauty Bag & Favorite Products, Too!)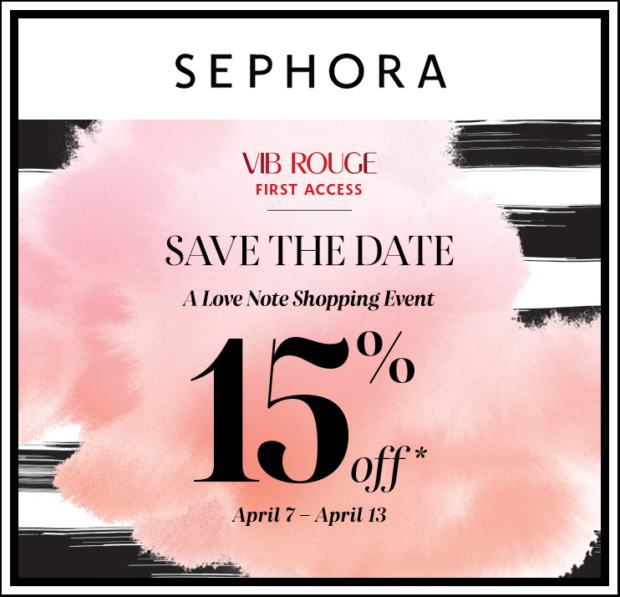 Sephora is having their Love Note beauty event for their Beauty Insider members, and now for a limited time only Rouge & VIB shoppers can take 15% off on their entire purchase! Not a VIB? Beauty Insiders can still take 10% off on their entire purchase, too. Full details, codes, and 15 of my favorite can't-live-without beauty products to check out are all below….

---
THE DEAL: Rouge members can take 15% off on their entire purchase. Shop the sale here. | code: ROUGENOTE
THE DEAL: VIB members can take 15% off on their entire purchase. Shop the sale here. | code: VIBNOTE
THE DEAL: BI members can take 10% off on their entire purchase. Shop the sale here. | code: BINOTE

1. Dior Diorskin Nude BB Creme in Light 001 – this is my favorite warm-weather foundation! It covers flaws & smooths skin without feeling too thick or heavy in the hot weather. It can also be easily layered for more coverage and has only a touch of shimmer–which leaves skin looking fresh and not overdone.
2. Guerlain Lingerie De Peau Liquid Foundation SPF 20 in 01 Beige Pale – and this is my favorite regular foundation to wear on days where I need heavier coverage or a more "made-up" look. It goes on flawlessly with a nice, slightly matte finish.
3. Shiseido Urban Environment Oil-Free UV Protector Broad Spectrum SPF 42 For Face – protection from the sun is insanely important for me, especially living in Colorado–and I've tried all of the sunscreens out there! I started using this sunscreen earlier this year and haven't looked back–it sinks into my skin quickly without leaving a white cast and blends well under all of my foundations and moisturizers! Excellent for daily wear–a little goes a long way.
4. Dr. Jart+ Water Replenishment Cotton Sheet Mask – I picked this mask up on a complete whim while in Vegas (looking to quickly perk up my dehydrated "airplane skin"), and it worked so well that I've now worked it into my weekly regimen. It's soothing, calming, super moisturizing, and doesn't irritate my sensitive skin. It smells amazing too–like a trip to the spa in a pouch! 
5. Olivia Palermo x Ciaté London Smokey Suedes Eye Palette – my twin sister gave me this palette as a birthday gift last year (after she picked it up for herself and loved it) and it's quickly become one of my favorite palettes, too! The colors are gorgeous, easy to blend, and don't fade even after all-day wear.  It's just the right size for travel too–making it perfect to pack on summer vacations & road trips. Major props to OP!
6. Roses De Chloé – I include this perfume in all of my Sephora lists for a reason–it's my absolute favorite fragrance of all time. Smells like a sweet, gorgeous garden without being heavy or cloying. It's my signature scent!
7. MAKE UP FOR EVER Aqua Liner Liquid Eyeliner (in Diamond Burgundy) – this eyeliner takes being waterproof very seriously. The thin brush makes it easy to apply, and it really lasts (and lasts, and lasts). My favorite shade is Diamond Burgundy (a warm plum).
8. Bumble and bumble Repair Blow Dry – I switched to this a few months ago (after being a diehard Drybar Hot Toddy fan for a few years) for only one reason–it protects from the heat while adding mega volume to my thin, fine hair. It leaves my hair shiny, smooth, and with just a little extra oomph! I love it.
9. Yves Saint Laurent Baby Doll Kiss & Blush Lips & Cheeks (in 09 Corail Affranchi) – this is easily one of my favorite all-time lip colors! It's a sweet, muted pink-ish coral that's super versatile and perfect for warmer weather.
10. NARS Yachiyo Brush #27 – I use this brush daily! It's excellent for contouring and makes applying blush, bronzers, & highlighters a breeze.
11. Fresh Citron de Vigne Shower Gel – this vitamin-packed shower gel smells sweet, fresh (of course!) & slightly citrusy. It also makes a great bubble bath!
12. Algenist Genius Ultimate Anti-Aging Vitamin C+ Serum – Vitamin C is important for aging skin and this is my favorite Vitamin C serum. It lightens dark spots while plumping my skin (and it helps zap dullness, too!). It's spendy but worth it–I only use it once every 2-3 days, so a bottle lasts several months. 
13. BECCA Shimmering Skin Perfector™ Pressed in Moonstone – this is an absolutely gorgeous highlighter–I dust this on my cheekbones to help make them pop! 
14. ALTERNA Haircare Bamboo Smooth Kendi Oil Dry Oil Mist – I've used this hair mist for several years now and really like it on both my own hair and to help add shine and softness to my clip-in hair extensions! It gives hair a natural shine without weighing hair down, and it also helps keep my clip-in extensions looking nice and natural for longer.  A little goes a very, very long way–I purchased my current bottle about 18 months ago!
15. Yves Saint Laurent Touche Eclat Blur Primer – I will always be a longtime fan of Guerlain's L'Or Pure Radiance Face Primer, but this YSL primer has stole my heart for a few reasons: it's a little bit more hydrating, it helps smooth out bumpy skin and fine lines, and it's $20 cheaper! A win all around.
*This offer ends April 13th; happy shopping!