Outfit Of The Yesterday: The Anthropologie Edmond Trench (+ The Rebecca Taylor Sleeveless Lace Mix Peplum Top)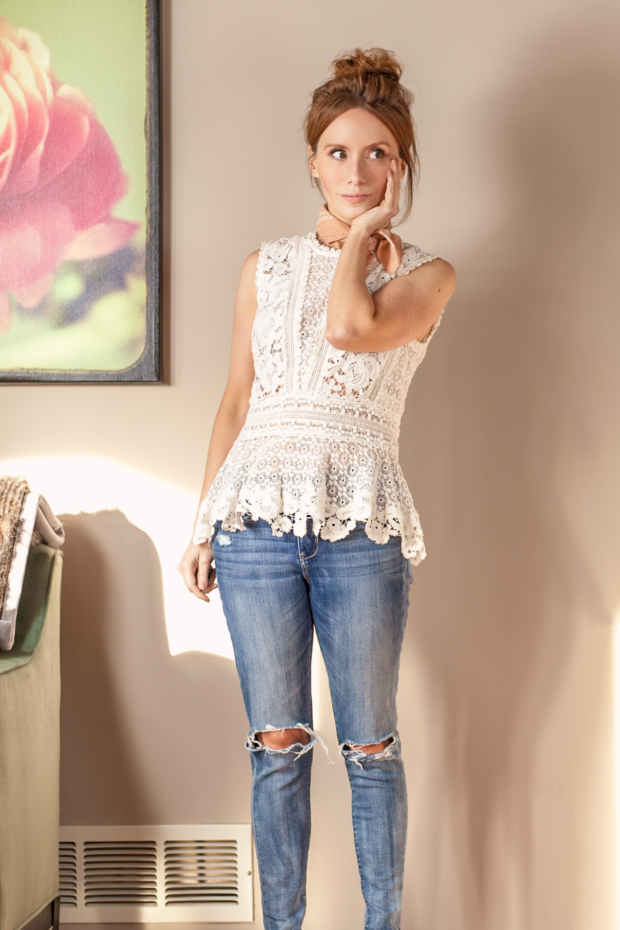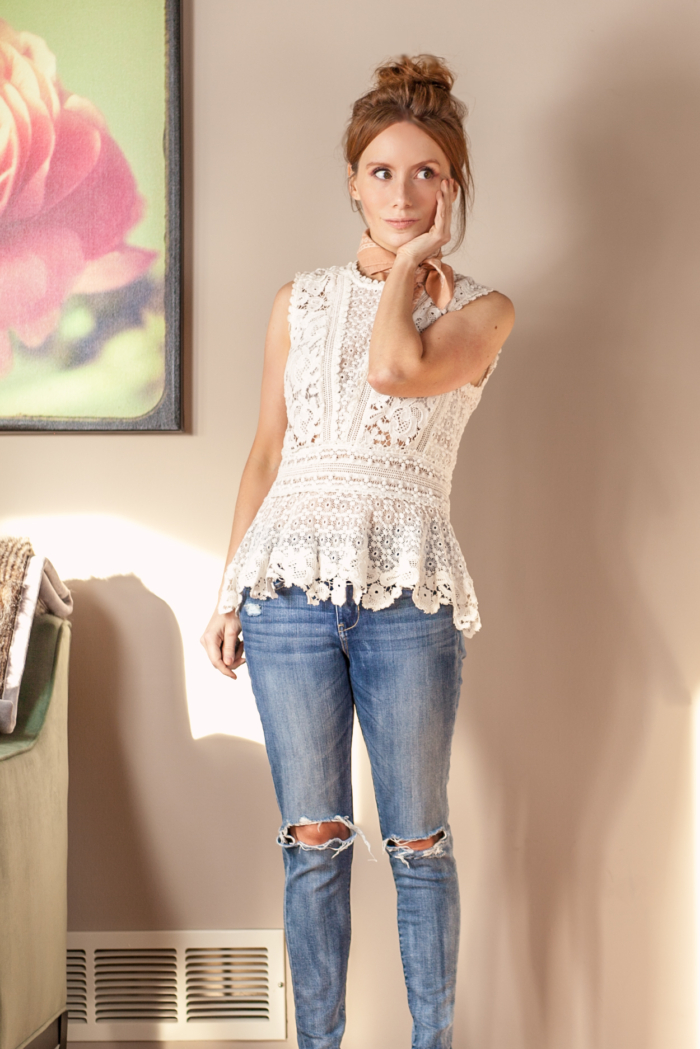 I first spied the Edmond Trench in the Cherry Creek Anthropologie shortly after Christmas time, hanging all prettily on a rack in the front of the store. Spend your Christmas cash on me, it teased. 
"Ooh I have seen you online and I want to spend my Christmas cash on you!" I said (squealed?) as I yanked it off the rack, ran over to a mirror, hastily threw my belongings to the ground and began to put it on.
"That looks….awfully wrinkly…" my twin sister said as I buttoned it up. She had a point. The trench was really pretty–bold double breasted buttons gave the coat a really flattering fit through the body, while the bottom of the trench swished out into a full pleated skirt made for twisting and twirling.
But my womb-mate was right: it was also a bit wrinkly and rumpled in the back–odd for a coat with a $168 price tag. It was also made out of a fairly light fabric meant more for spring. and not the colder days of a January in Colorado. I reluctantly put the trench back on the rack, vowing to reconsider purchasing it if it ever went on sale.
Well! Anthropologie had a quick 20% off sale a few weekends ago, and I couldn't stop thinking about it, so I pulled the trigger. I love a good feminine-twist on classic pieces of clothing, and this trench coat fits the bill.
My only regret, however, is that I did not take any photographs of how it arrived: literally wadded up into a funny little hysterical ball of wrinkles. Endless wrinkles. The wrinkles had wrinkles, that's how wrinkled it was.
Thankfully the only thing I love more than a gorgeous trench coat and spending too much money on clothes that are definitely probably not worth it is a good challenge, so I took out my steamer and immediately got to work. The coat is made out of a softer fabric that makes the coat drape well over the body and really comfortable wear. The tag claims that this fabric is lyocell. Google also claims that lyocell an amazingly wrinkle-resistant fabric, and if that is the case, then someone here is definitely lying–it took about 30 minutes of aggressive pressing and steaming to get most of them out. 
"Um. Do you need to take a break? You're really breathing hard there. Is that steam or sweat?" my husband said as I was about halfway through the process.
"Just…a few more…wrinkles…arrrrghhh almost…GOT IT…" I said (grunted) through gritted teeth. 
So, dear readers, the good news is this: once I finished steaming the trench and wore it a few times, it has yet to re-wrinkle. I was afraid it would be like linen and I was sure that any sort of wear would cause it to immediately look like it spent a month at the bottom of my hamper. This is not the case–it has remained fairly pristine and wrinkle-free. The sleeves are a little creased, since I tend to shove them up and down my arms–but the rest of the coat has remained nice and mostly wrinkle-free. Whew.
So would I recommend this jacket? Yes…and no. I am keeping it because I love how pretty it is. The petite size x-small is a near perfect-fit for me, too–it's so hard for me to find jackets that are already the correct length in the body and in the arms with no tailoring required, and this one fits flawlessly. But I also have an endless (and sad) amount of time on my hands to steam and press things. If you are not into high-maintenance clothing, this trench is not for you.
Moving on. I am also wearing the Rebecca Taylor Lace Mix Peplum Top, which I managed to grab for a steal on Black Friday from Neiman Marcus. It's no longer available online in the color I'm wearing (but it does come in a gorgeous blush pink color here–and it is on sale in black here). I love this top so much!
As far as sizing goes, I think that this top fits pretty true to size. I am wearing it a size larger than my normal size (according to the size chart at Rebecca Taylor) because my size wasn't available for purchase, and it's definitely a bit loose. It still works though, and I've gotten compliments on it everywhere I've worn it so far. The top doesn't come lined, so you will need to provide your own undergarment. I am wearing it below with only a nude strapless bra, and I think it's fairly concealed due to the placement of lace–but I've also worn it with a nude camisole from LOFT and it's worked well, too. 
Other than that…messy hair, don't care. Well. I kinda care. But I've found myself just pinning my hair up into a wild messy pile out of my face more and more and more. My twin sister gave me a little bottle of the Serge Normant 'Dream Big' Instant Volumizing Spray for Christmas, and it's amazing at providing lots of va-vavoom volume and texture, especially on slick & just-washed hair. I am also pretty sure that I'm about to permanently break my poor vacuum cleaner with the amount of bobby pins that I keep accidentally sucking up–they hide themselves freakishly well in corners, carpeting, and rugs.
C'est la vie.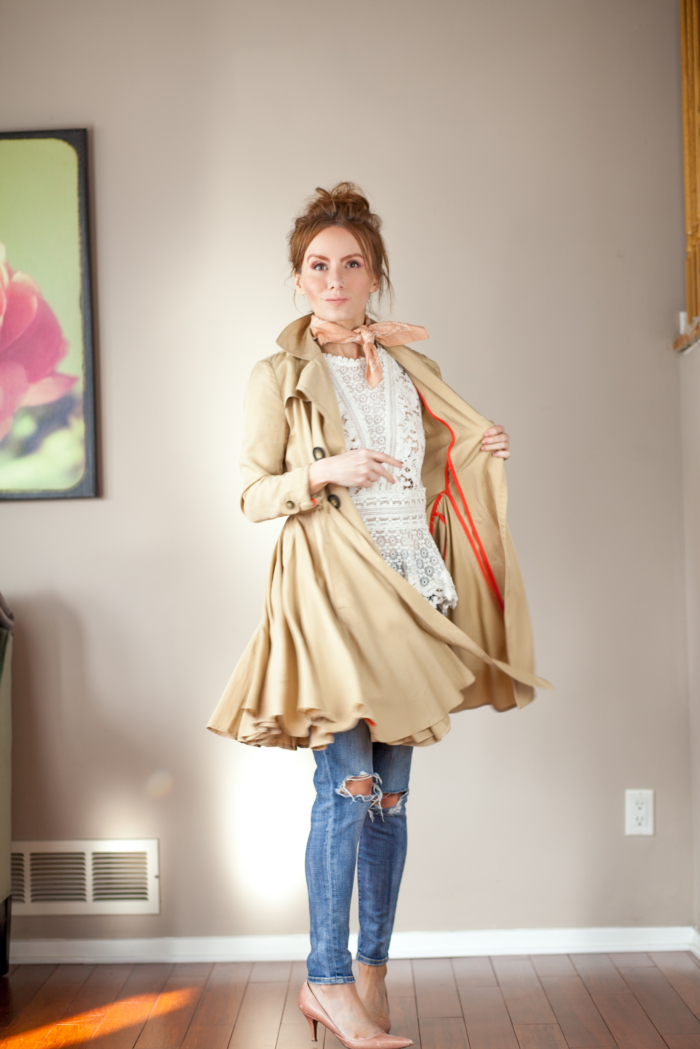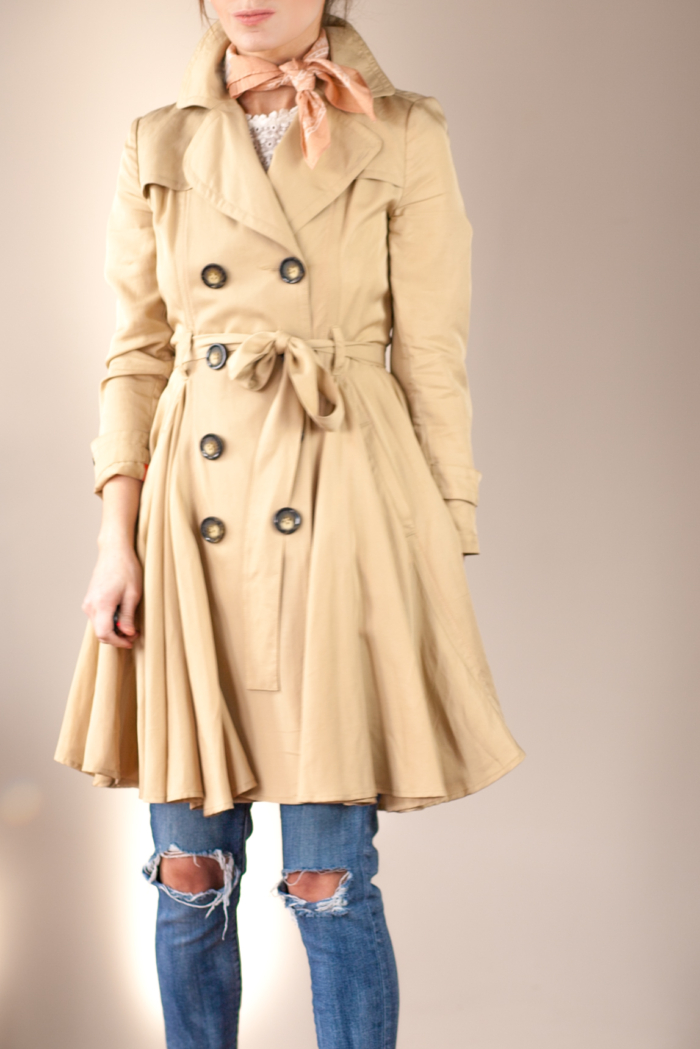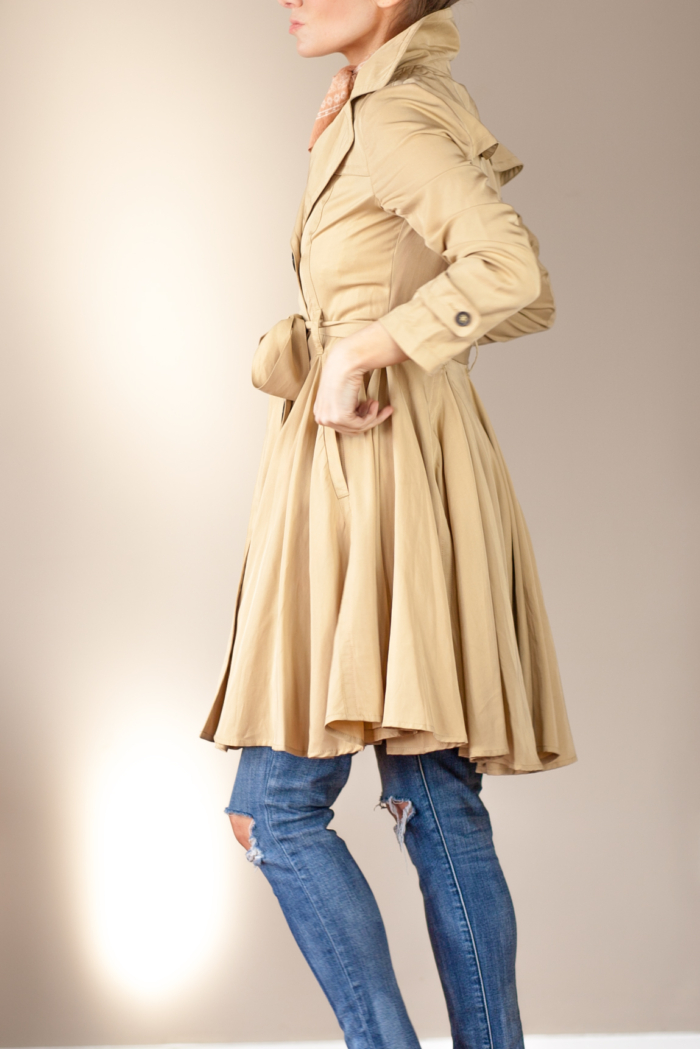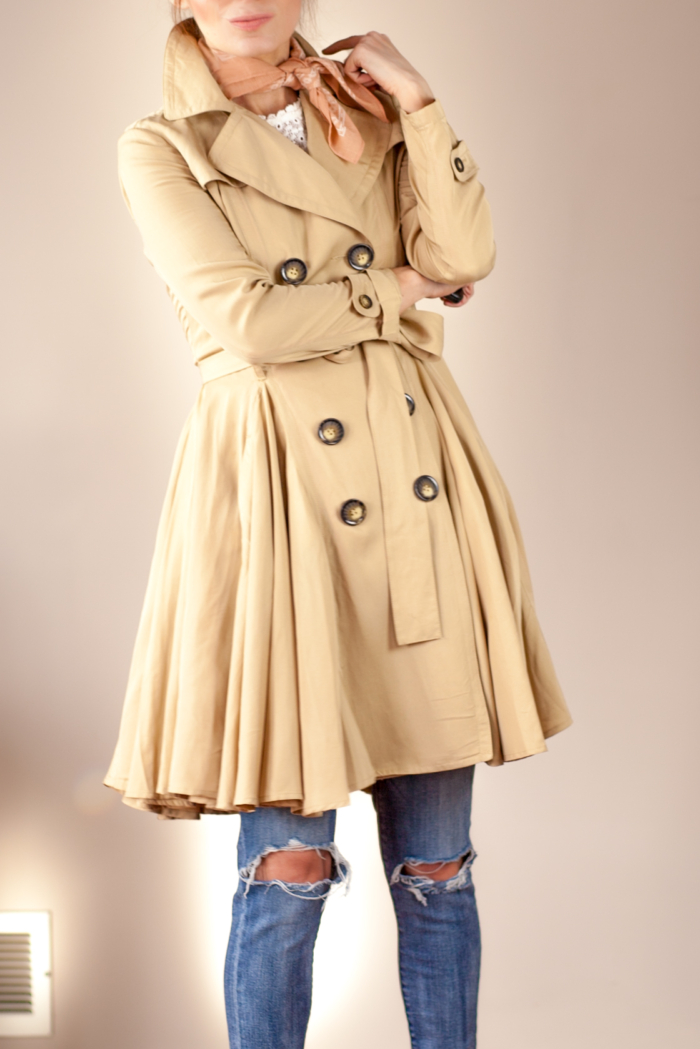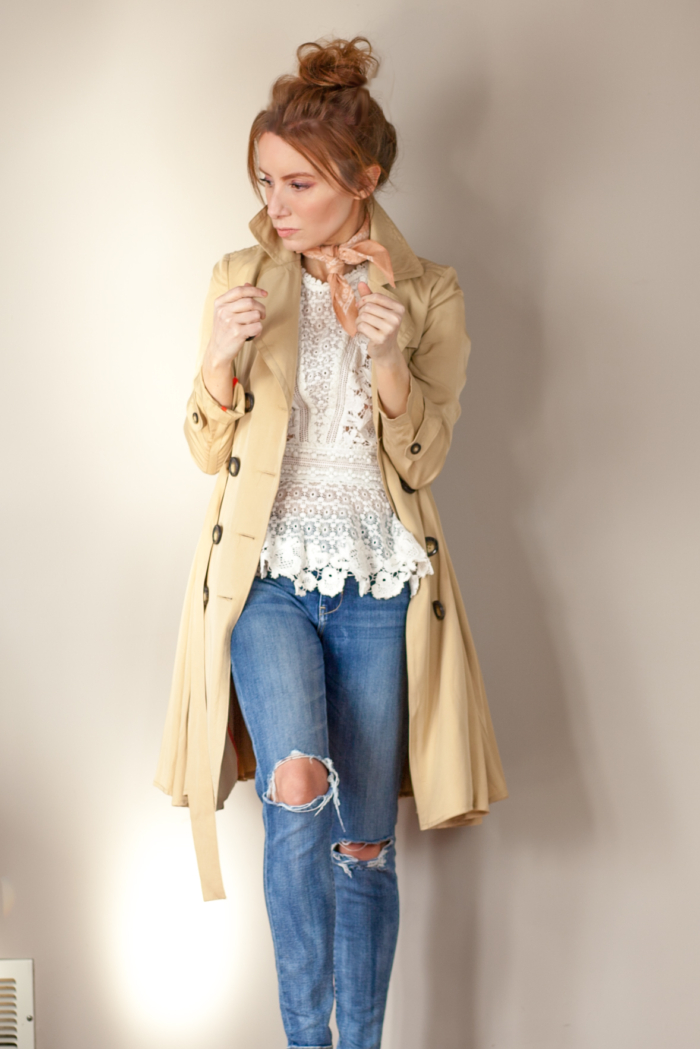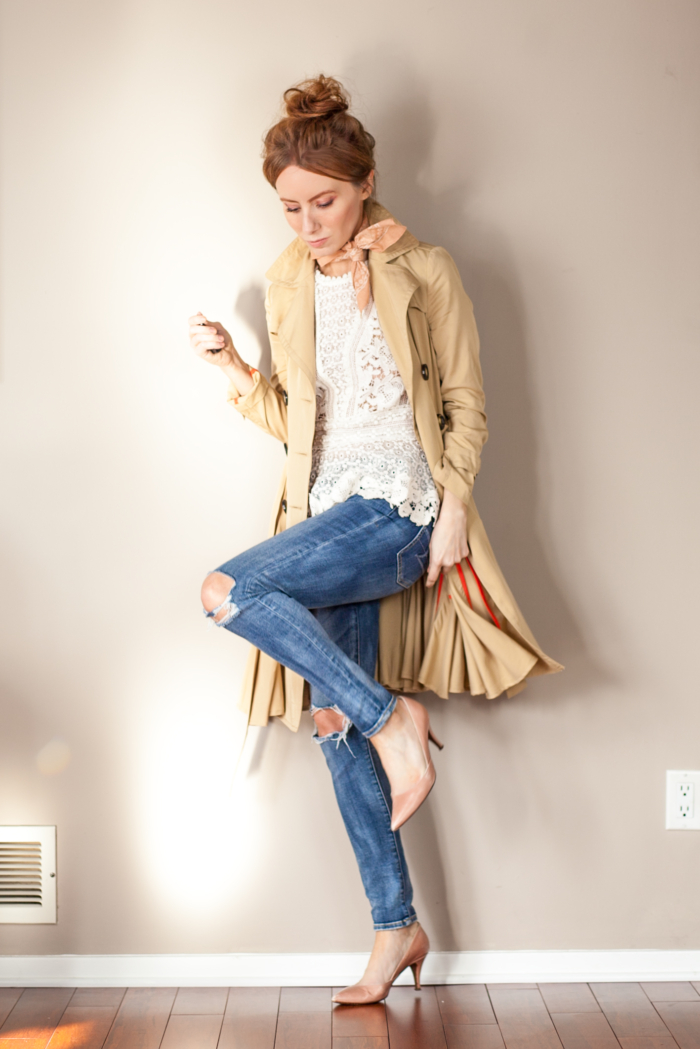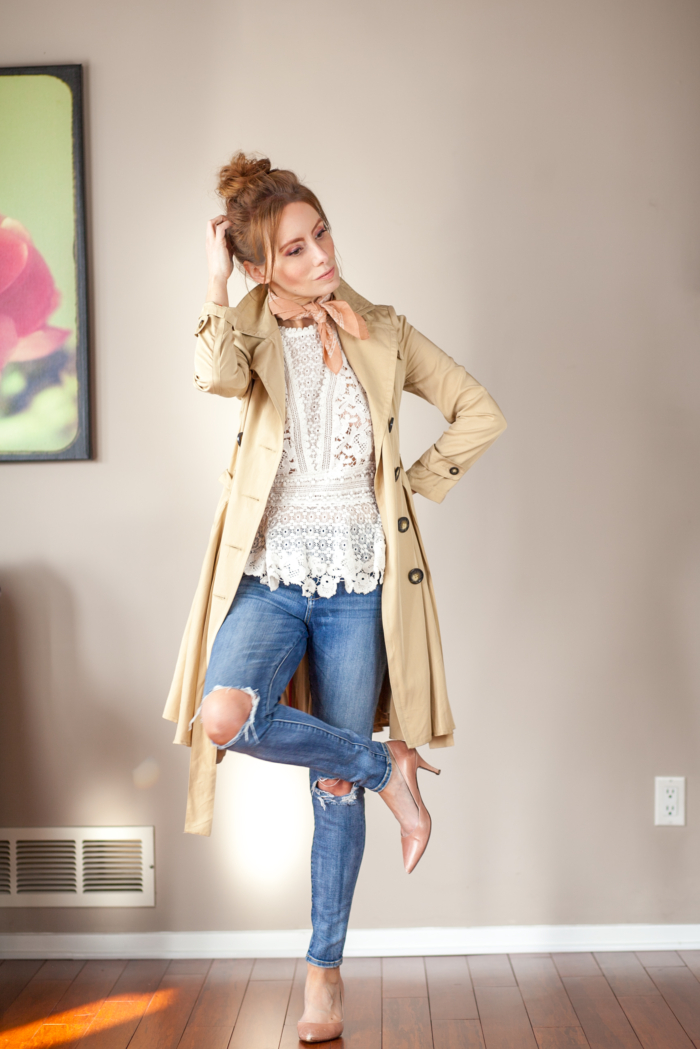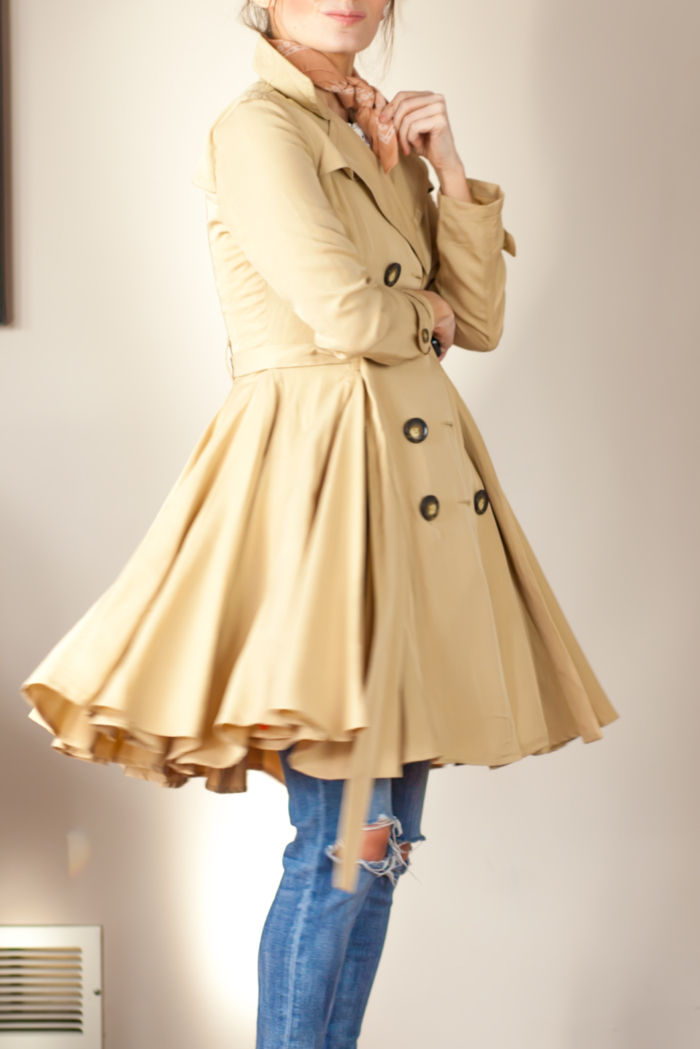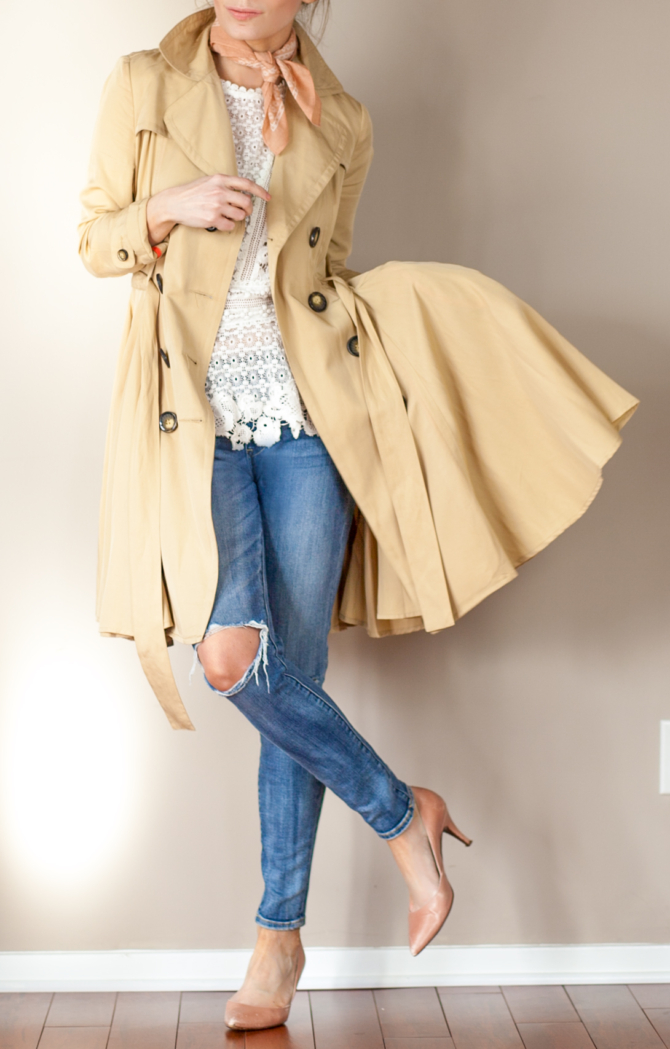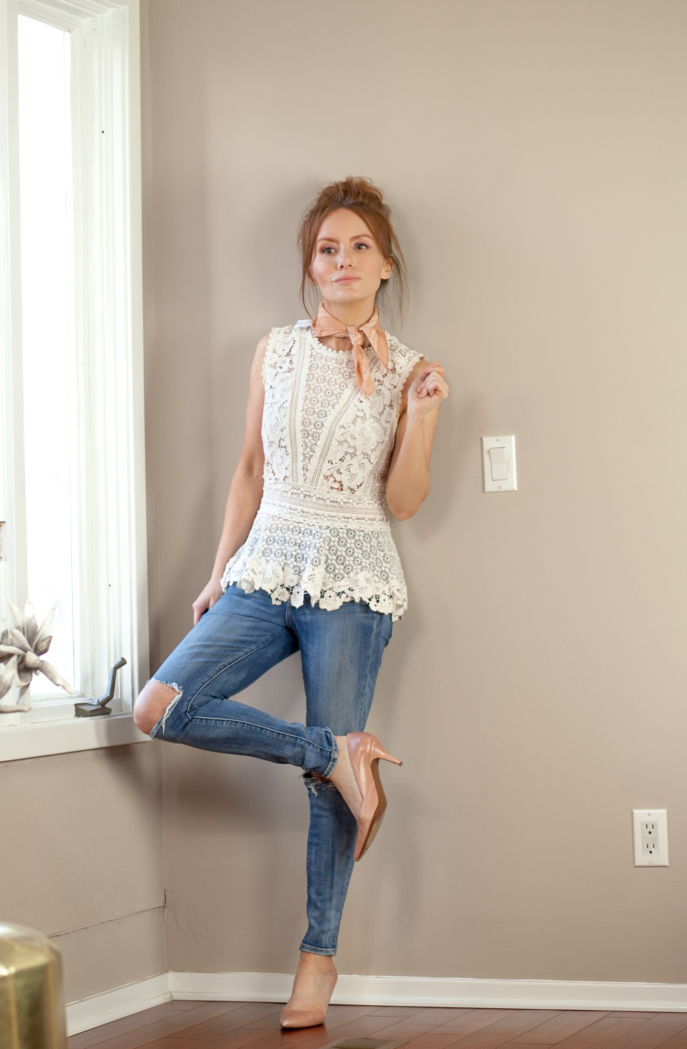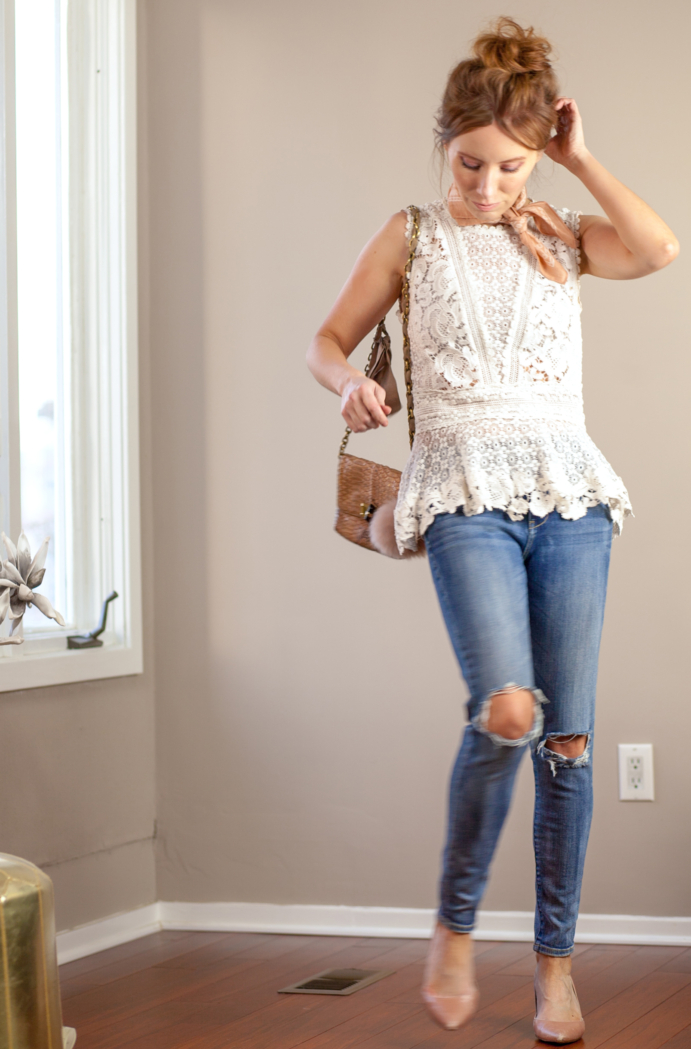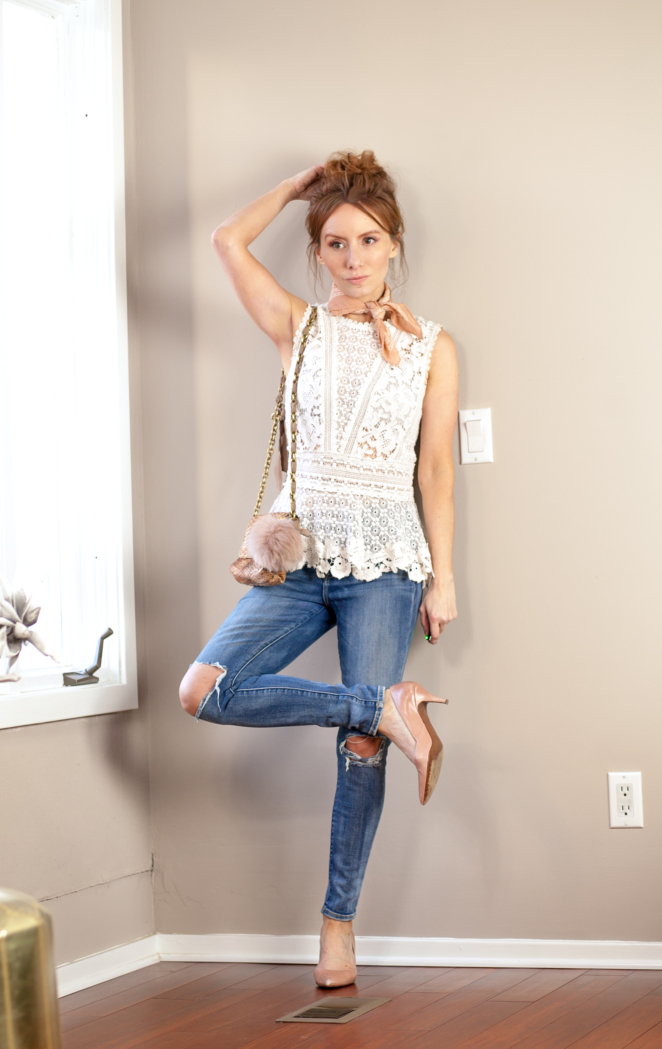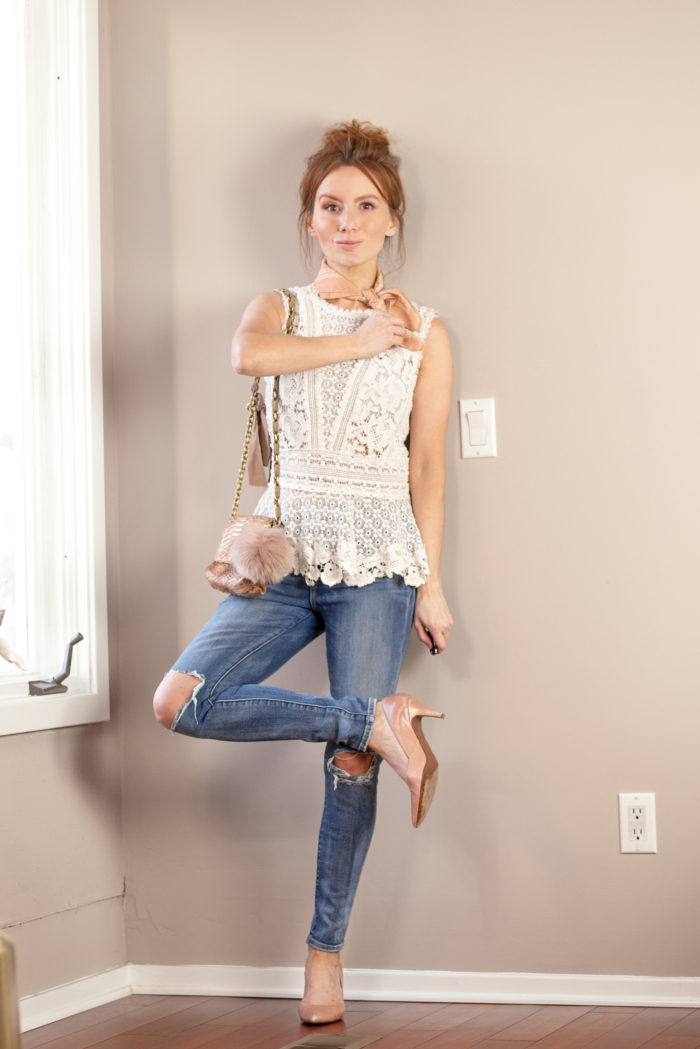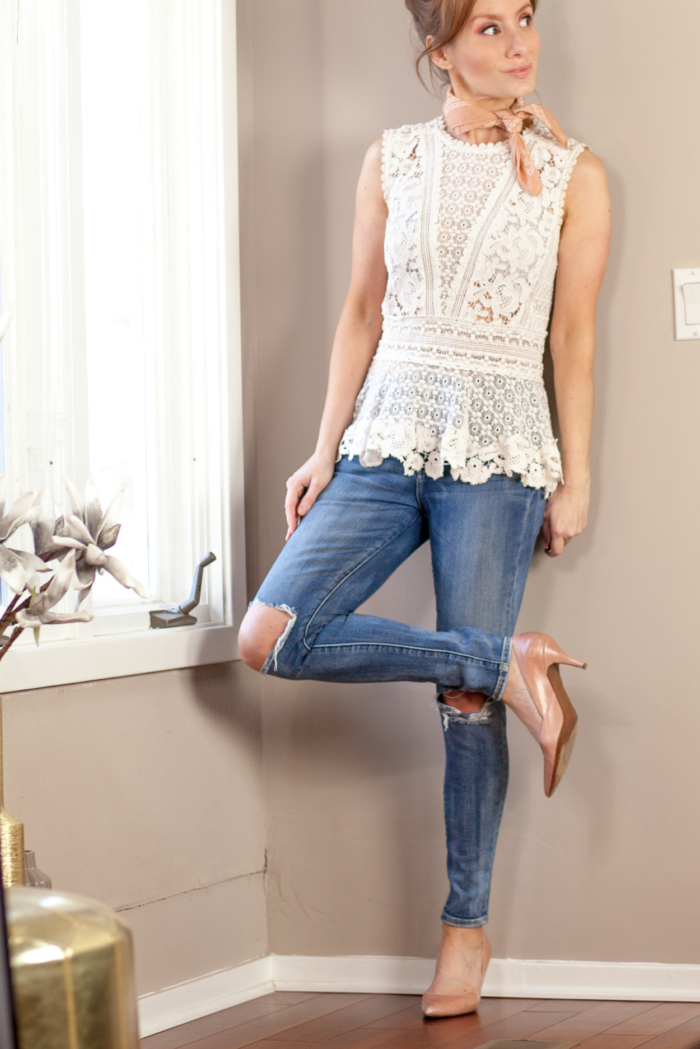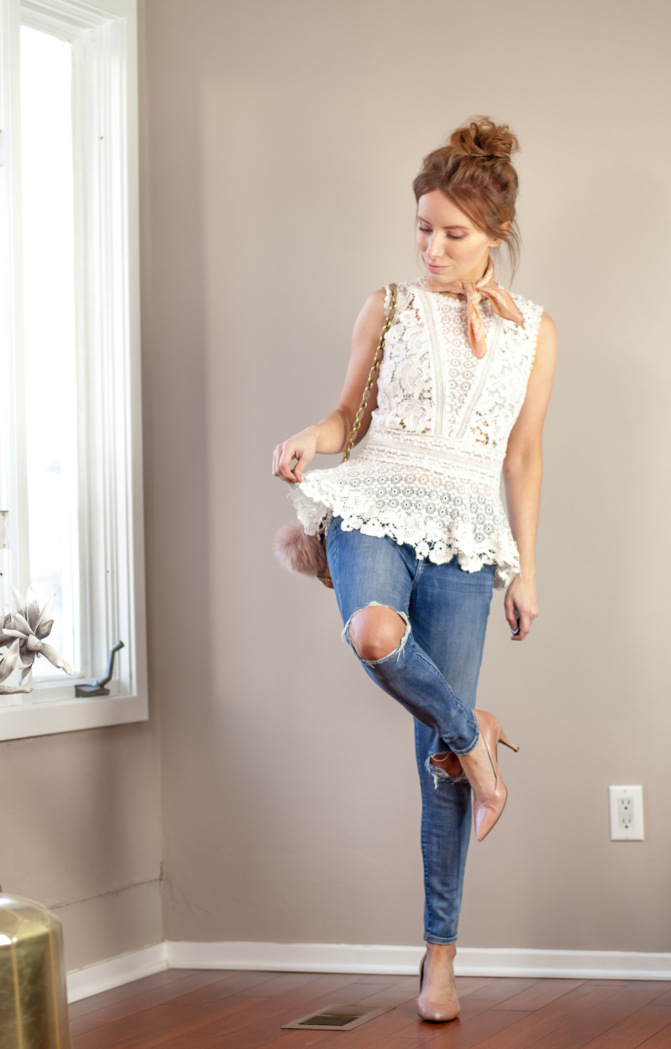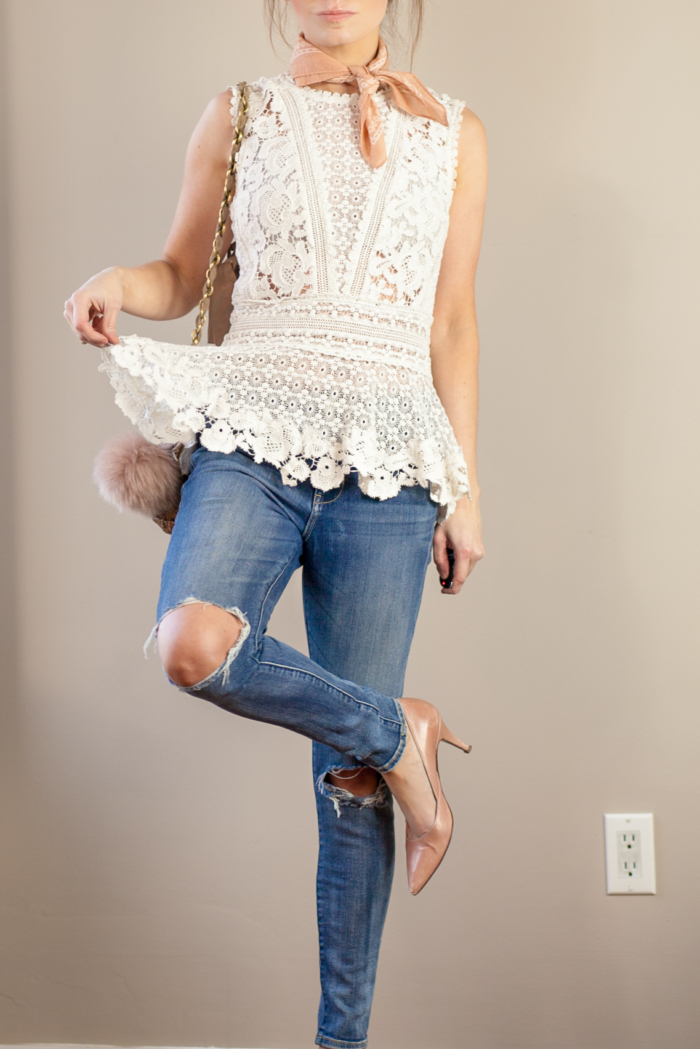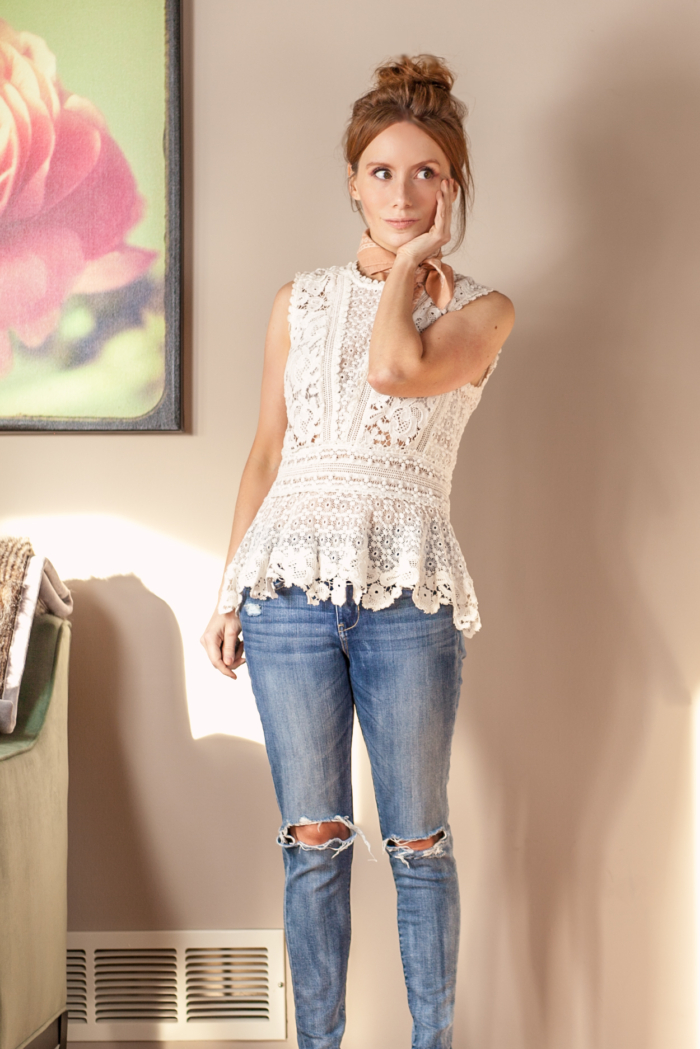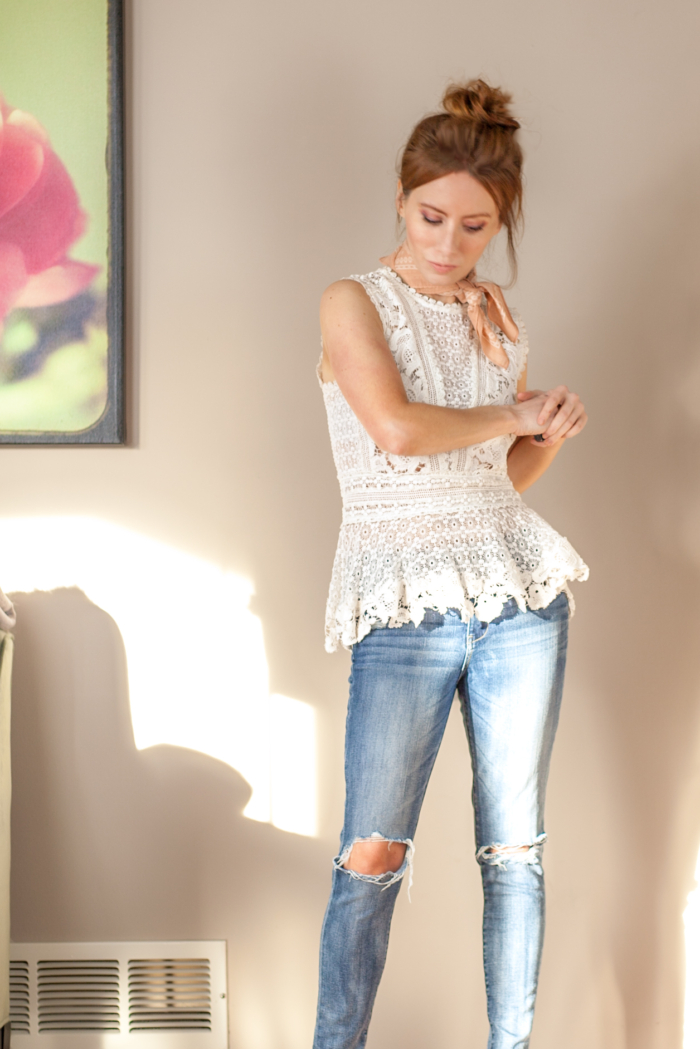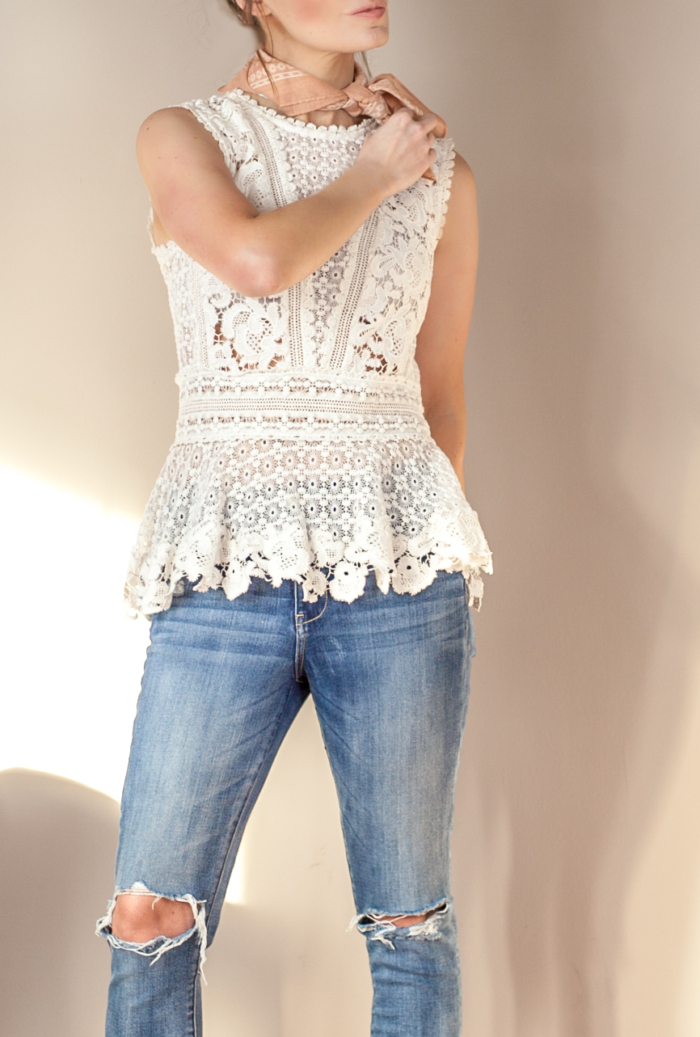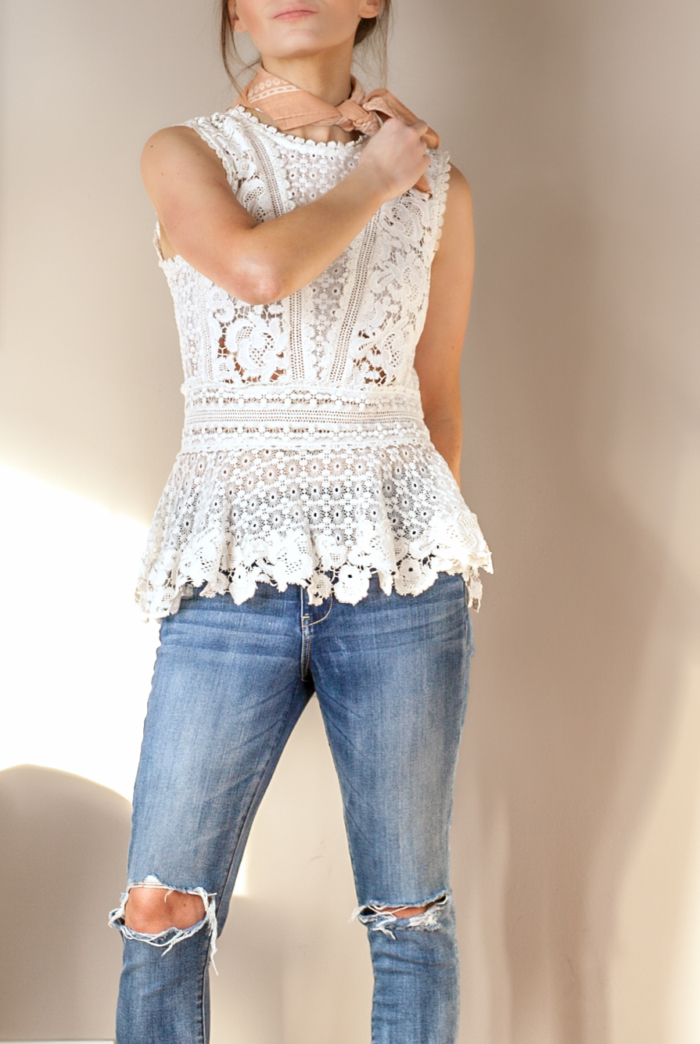 TRENCH COAT: Edmund Trench by DRA (buy it here) (similar here) (similar here) (similar here) (similar under $75)
TOP: Rebecca Taylor Sleeveless Lace Top (buy it here) (buy it here) (similar under $100) (similar under $100) (similar here) (similar here) (similar here) (similar here) 
JEANS: American Eagle Outfitters Hi-Rise jeggings, old (similar here) (similar here)
BAG: Lanvin Mini Happy in Python, old (similar here) (similar here) (similar under $100) (similar under $50)
SHOES: J Crew, old (similar here) (similar here) (similar here) (similar here)
POM POM: Ann Taylor old (similar here) (similar here)
SCARF: J Crew (buy it here) (similar here)