Good morning, shoppers! Here's everything* happening in the world of online sample sales this Sunday, December 8th…

---
Below is a list of sample sales occurring for today! All sales in bold are sales I'm checking out, and all sales in bold pink are the sales that I think are worth hitting first thing. As with all sales, the sales listed below are subject to change so always check the sample sale individual websites for updates. Happy shopping!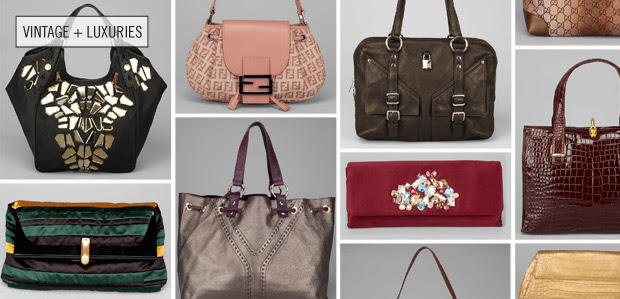 Like Belle & Clive on Facebook and receive an exclusive discount for $40 off of $200!

In the Black: Apparel
Make a Statement: Necklaces

Pay for shipping once & receive free shipping on all additional orders for until December 15th (see site for full details)

Watches: $159.99 & Under
Vintage Inspired Jewelry
Designer Vault: Shoes (featuring Missoni, Tods, Michael Kors, & more)
Small Leather Accessories
Alpaca Wool Coats and Down Parkas
Colorful Cashmere
Diesel and Swarovski
Designer Boot Boutique (featuring Luxury Rebel & more)
Modern Sheet Sets
Forplay Costume Collection Blowout
Workout and Feel Beautiful
Furniture Gifts
Home Accents Clearance
Luxury Lounge
Designer Tops and Bottoms
Glam Rugs
Rachael Ray

All sales start tonight at 9pm EST!

Up to 75% Off: Luxe Down Bedding
Outerwear & Jackets Under $100
The Gift shop: Editors' Picks & More
Wrap Up: Winter Scarves
Bottega Veneta Shoes & Handbags
The Cashmere Shop: Steals & Splurges
European Luxury Featuring Azzedine Alaia
One-of-a-Kind Accessories
Tahari ASL
Personalized Jewelry
City Chic: Easy Boots & Booties
Chic Combo: Black & White
Toasty Fireside Sweaters
Phil & Teds Strollers and More
Hansa Collective Stuffed Animals
Neige & Elephantito
Bloch & More Shoes
Denim for Baby & Kids
Charabia for Girls
Top Diaper Bags featuring Foxy Vida, Danzo, and More
Science & Nature Toys
Comfy Baby Clothes
Baby Keepsakes: Swaddle Designs & Pearhead
Live in Luxury: Silk Rugs
The Holiday Decor Shop
Great Gifts Under $100
The Candle Shop
The Cashmere Shop
Live in Leather: Furniture & More
Now on Gilt City: Liquiteria Juice Cleanse
Vintage-Inspired Holiday Decor Starting at $5
Godinger Tabletop & Frames
James DeWulf: Chic Concrete Furnishings & More
Up to 80% Off: Outdoor Blowout
Abrams Books

Go Couture Tees
Givenchy, Ferragamo & More
Diamond Jewelry: The Forever Gift
Kensie
Holiday Looks We Love
Dolce Vita Outerwear
Bold Booties
My Tribe Blowout
The Perfect Gift: Luxe Leather Hobo
Get Pumped
Luma
Muse
Million Dollar Tan
Reebok Men's Shoes & More
Wrap It Up: Loveappella Scarves
Boot Boutique
Feminine Flair: Statement Jewelry
Luxe Leather & Nylon Bags
Rodial Skincare
Gifts For Him & Her: NHL, NCAA & NBA
Blackjack Men's Jewelry
Iron & Resin Men's Apparel & More
American Apparel Men
Getaway: Resort Vacation
Nailbuds Gel Polish
Freckles + Kitty: Colorful Sets & Dresses
The Great Outdoors: Keen, Kamik & More
CoffeeShop Kids' Outerwear
Julia Jordan Dress
Wardrobe Remix: Staples & Standouts – starts at 7pm EST!
So Many Shoes: Pairs For Every Look- starts at 7pm EST!
Handbag Steals: Starting At $25- starts at 7pm EST!
All In The Details: Bags, Belts & Beyond- starts at 7pm EST!
Fresh Fits: Denim, Cargos & More- starts at 7pm EST!

Black Sale:  Up to 90% Off
forte cashmere
jimmy choo (shoes)
….and more! Ideeli posts a full list of their daily sales about 1 to 2 hours before sales start (11am).

Sunpan Home – Stylish Furniture in Sleek Silhouettes

Rustic Entertaining – Furniture for a Country Soiree

Feminine Chic – Fashionable Pillows, Rugs & Accessories

Gallery Gifts – Bright Designs with Artistic Flair

ARTERIORS – Trendsetting Occasionals, Lighting & Decor

La Laguiole – French Steak Knives, Cheeseboards & More

Perfectly Accessorized – Chic Clutches & Evening Bags

Gingerbread Cottage – Heartwarming Holiday Designs – starts at 9pm EST
The Ski Shoppe – Decor for a Mountaintop Getaway – starts at 9pm EST

Natasha Zinko
Kalmanovich
Russian Accents: Accessories Edit

Cozy Gift Sets by Mukluks
Lovely Lace: Dresses, Tops, and Skirts
Up to 70% Off: Sweatshirts in all sizes
Ivanka Trump Handbags
Colorful One-of-a-Kind Throws
Vince Camuto Outerwear
Get Warm: Gloves & Hand Warmers
Holiday Glam: Party Shoes
Kamalikulture
Initial Jewelry: Make It Personal
Charlotte Ronson Handbags
$19 & Up: Day by Day Sweats

Party Time! Gifts for the New Year's Hostess
Jewelry, Barware, and Accessories: Maddie Sadofski
Grand Statements: Significant Vintage & Antique Decor
Shared Space: His & Her Bedding
Shared Space: His & Her Bath
Fabulous Finishes: Painted Tables, Chairs, and More
Downstairs: Clearance with Style
Making Spirits Bright: Holiday Decor that Shines
Natural Luxury: Alpaca Scarves, Gloves, and Ties
Season's Best: Your Favorite Earrings – starts at 9pm EST!
Vintage Bags, Jewelery, and Scarves: The Emporium Ltd.- starts at 9pm EST!
A Shining Start: New Year's Eve Party Essentials- starts at 9pm EST!
Cheers! Celebration-Ready Barware- starts at 9pm EST!
Soft Luxuries: Alicia Adams Alpaca- starts at 9pm EST!
Get Your Greenery: Festive Wreaths, Trees, and More- starts at 9pm EST!
Vintage Downstairs: Vintage Picks at Great Prices- starts at 9pm EST!
Rustic & Refined: Pieces for the Country Kitchen- starts at 9pm EST!
The Artist's Loft: Prints of Contemporary & Classic Works- starts at 9pm EST!
Literary Gifts: Juniper Books- starts at 9pm EST!

New Now, Sans Wait LIst: Balenciaga, Lanvin, and More
DL1961 Premium Denim
Power to the Bootie: Flat & Heeled Styles
Swiss Legend Women's Watches
Swiss Legend Men's Watches
Covet. (Within a Budget.) Winter Style Under $100
Kelsi Dagger Shoes & Handbags
Valentino, Gucci, and More: Picks by Linda's Stuff
Tommy Hilfiger Men: First Time on Rue
Sunday  Supper: Christmas Brunch
Museum Masters: Oil Reproductions
On Our Radar: DeBrand Fine Chocolates
Salomon Women
Salomon Men
FineStationery: Redeem Online
Surf Air Unlimited Private Flights in California
Can't Wait for Sleep: Chic Furniture & Lighting
Tommy Hilfiger Home
Add Decorative Details: Holiday Pillows & Rugs
Get Them While You Can: Last-Minute Kids' Gifts
Sunday Night Styleathon – starts at 8pm EST!
Sunday Night House Hunt – starts at 8pm EST!

Down East Basics
Journee Collection & More
Shop The Look: Dinner & Dancing
CHOOZE
Kids Headquarters
Doodle Pants
Halo
Kids Headquarters
Refresh Your Look: Women's Apparel
Lingerie Favorites Collection
Faux Fur Fashion: Kids' Boots
& lots more! See site for full list of daily sales.
---
*listed sales are not guaranteed and subject to change; always check the sample sale's website for a complete list of all sales