Good morning, shoppers! Here's everything* happening in the world of online sample sales this Thursday, March 26th…

---
Below is a list of sample sales occurring for today! All sales in bold are sales I'm checking out, and all sales in bold pink are the sales that I think are worth hitting first thing. As with all sales, the sales listed below are subject to change so always check the sample sale individual websites for updates. Happy shopping!
SAMPLE SALE OF THE DAY:
Haute Hippie - GILT (starts at 12:00pm EST)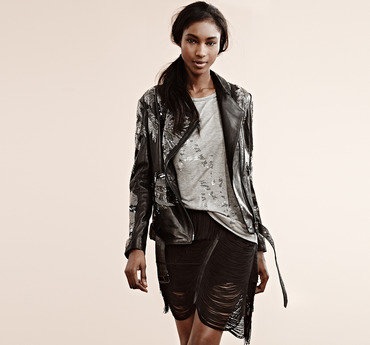 TOP SAMPLE SALES FOR TODAY:

Get free shipping on all orders of $75 – see site for full details!
Prada, Gucci, Fendi & More Designer Belts

Chan Luu Jewelry

Trend Report: Printed Bottoms Apparel
Swimsuits With Style Swim
Sports Bras Activewear
Burberry Men's Designer Ties
The Essentials Shop Men's Apparel & Accessories 

Tahari Dresses and Suits
Carat Laboratories
Armani, Invicta, Hugo Boss
Coach, Marc Jacobs, Lucien Piccard
Cocobella Apparel    
Spring Suits
Dex: Full Figure
Dex   
Dex Kids
Dex for Men
Brilliance New York Hair & Skin Care
Get Festival-Ready
Flats to Strut at Easter Brunch   
Pastel Power: Colors of Easter
Mix and Match Sheet Sets
Update Your Bed: Duvets
Sweet Dreams: Tween Bedding
A Better Rest
Perk Up Your Morning (US)
Coffee Machines and K-Cup Holders
Fitness for a New You
Add Some Romance to Your Bedroom
Black, White and Shades of Gray

The New Jewels
Haute Hippie
All About Leather
Designer Sunglasses
Tart
Top Pro Beauty Tools
Alexis Bittar
The Biggest Bedding Event: All Bedding, Down & Mattresses
Kara Ross x Donald Robertson
Carvela Kurt Geiger
Essential Black Pieces
Made for Spring: Tart Maternity
Spring Outfits by L'Enfant Lune
Emile et Rose
Bold Bedding for Baby & Kids Feat. Kinderhouse
Made for Spring: Tart Maternity
Catimini for Baby & Kids
Mistral Kids' Shoes
Seedling Craft Kits
Chambers: New York
Extra 30% Off: All Down
Complete Your Suite
Raise the Bar: Stools, Carts & Cabinets
Extra 30% Off: All Mattresses
The Stylish Bath: Luxe Accessories & More
J.A. Henckels International
Wick Picks: Moroccan-Inspired Candles
Spring Style: Colorful Rustic
Modern Safari Style: Art & Rugs
Chambers: New York
Bold Bedding for Baby & Kids Feat. Kinderhouse

VINCE
VINCE Men
LOVE Moschino
Black Orchid
Taryn Rose

Accessories Chiara – Skincare From The Dead Sea
Shoes Ellen Tracy
Jessica Simpson
Man Up – Elevate His Style
Miu Miu – Sunglasses & Optical Frames
Plus Taylor – Plus Size
…and more! Ideeli posts a full list of their daily sales about 1 to 2 hours before sales start (11am).

Sea Breeze Ease – Furniture with Carefree Style
Kitchen from $10 – All You Need to Prep, Cook & Serve
Up Above – Illuminate with Ceiling Lighting
On a Cloud – Mattress Pads, Beddings Sets & Pillows
Metal & Wood- Accents in Two Top Materials
The Choice Is Yours -Find Your Favorite Beds, Tables & More
Fresh Air with Friends – Indoor/Outdoor Decor for Gatherings
Cottage Comforts – Charming Pillows, Rugs & Throws
Cleans Up Nicely – Bathroom & Vanity Organization
Pint-Sized Style – Playful Decor for Little Ones

Johanna Ortiz
Rizal Furs
Noor Fares

Make a Statement
Spring Checklist: The Sporty Sole
3×1 Denim
Spring Scarves: Bindya & More
Sam Edelman Outerwear
Makeup Greats: YSL & More
New Arrivals: Anzie Jewelry
UGG Australia
Preston Sweaters, Tees & More
DURING
New Balance Sandals & More
Made in Italy: Beatrice B & Sfizio
Grooming Gifts feat. The Art of Shaving
Dynamic Duo: Plus Size Tunics & Jeans
Best of Skincare feat. GlamGlow
Spring is Here: Short & Cap-Sleeved Dresses
New Markdowns: Columbia Outerwear
Last Call: Plus-Size Cashmere Sweaters
$79 & Under: Contemporary Knitwear
Spring Break: Scarves & Sunnies
Last-Minute Easter Treats: Galaxy Desserts
Essential for Spring: Dresses & Jumpsuits – starts at 7pm EST!
Essential for Spring: The Open Sandal – starts at 7pm EST!
Essential for Spring: Lightweight Jackets – starts at 7pm EST!
The Everyday Bag – starts at 7pm EST!
Essential for Spring: The Printed Top – starts at 7pm EST!
Essential for Spring: Stand-Out Sunglasses – starts at 7pm EST!
Essential for Spring: Colorful Knits – starts at 7pm EST!
Essential for Spring: Makeup & Palettes – starts at 7pm EST!
Essential for Spring: Bright Accessories – starts at 7pm EST!
Essential for Spring: Vibrant Jewelry & Watches – starts at 7pm EST!
Essential for Spring: The Skinny Jean – starts at 7pm EST!
Essential for Spring: Neutral Pumps & Wedges – starts at 7pm EST!

Crush-Worthy – A New Take on Rustic
Love the Look – The Park Avenue Penthouse
Lake-House Living – Furnishings for a Relaxed Retreat
Outdoor Oasis – Fountains from Classic to Modern
Designer Boutique – Vintage Finds from Ivy and Vine
New & Noteworthy – Three Jewelry Designers We Love
Best Foot Forward – Luxurious Rugs in Every Style
Make Fetch Happen – Dog Accessories by Jax & Bones
Vintage Decor – Elegant Finds for the Dining Room – starts at 9pm EST!
Wash & Fold – Laundry Room Essentials – starts at 9pm EST!
The Chic Collector – Pieces for a Glam Curated Space – starts at 9pm EST!
Neutral & Natural – Accents for a Serene Space – starts at 9pm EST!
Precious Cargo – Jewelry Storage – starts at 9pm EST!
The Makers- Favorite Finds from Nantucket – starts at 9pm EST!
Room Crush – A Sophisticated, Worldly Living Room  – starts at 9pm EST!

Brooks Brothers
Brooks Brothers Kids
SOUTHERN fROCK
Tom Ford Sunglasses
T Tahari Outerwear & Shoes
Hoss Intropia
Charles David & Charles by Charles David
The Last-Chance Sale. When it's gone, it's gone.
M Missoni
exhale mind body spa
From Gold to Silver: Jewelry & Watches That Shine
The Luxe Raid: Shoe Edition
Denim That Flatters Every Curve
Soft & Chic: Style That Feels as Good as It Looks
La Blanca Swimwear
Mephisto
Marina B Jewelry
Mountain Hardwear Women
Mountain Hardwear Men
Drift Off in Comfort: Down, Memory Foam, & More
Forever in Style: Heirloom-Like Furniture & Decor
100 Under $100: Quilts, Sheets, & More
Ready to Roll: Kids' Ride-On Cars, Bikes, & More
St. James's Club – Antigua
The Packing List: Choose Your Destination – 3PM ET
How Low Can We Go: The $30 & Under Sale – 3PM ET

Louisville Slugger
A Day at the Barn
Get Cozy in the Living Room
DecorDesigns
Norpro
Pumpkin Patch Girl
Carhartt Kids
Stonebriar Collection
Juice from the Raw
…& lots more! See site for full list of daily sales.
---
*listed sales are not guaranteed and subject to change; always check the sample sale's website for a complete list of all sales & happy shopping.