Good morning, shoppers! Here's everything* happening in the world of online sample sales this Thursday, October 30th…

---
Below is a list of sample sales occurring for today! All sales in bold are sales I'm checking out, and all sales in bold pink are the sales that I think are worth hitting first thing. As with all sales, the sales listed below are subject to change so always check the sample sale individual websites for updates. Happy shopping!

SAMPLE SALE OF THE DAY:
Foley + Corinna Handbags - MY HABIT (starts at 12:00pm EST)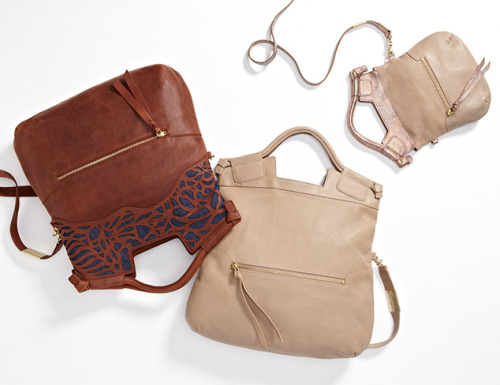 OTHER SAMPLE SALES OF NOTE FOR THURSDAY, OCTOBER 30TH:


Like Belle & Clive on Facebook and receive an exclusive discount for $40 off of $200 (see site for full details!
 Furla Handbags & Wallets

Cateye Obsession Sunglasses

Thursday Steal: $49 Mixed Media Wyatt Dresses
Thursday Steal: $45 Beck Sondergaard Scarves
Electric Yoga Loungewear
New to Belle & Clive: Ivanka Trump Fine Jewelry
All That Glitters ft. Wyatt Jewelry
Top Picks: 80% Off Blouses Blouses & Tops
Adrienne Landau Outerwear & Accessories
Designer Ties for $110 ft. Salvatore Ferragamo Men's Designer Ties
Casual Date Night Men's Apparel & Acc.

Women's Premium Watches
Designers to covet featuring PLUS SIZE styles
BCBG Paris Handbags – New to BTR
Obsession du Jour: Endless Elegance
Relax in Style
Olivia M and Rain – Best of Cardigans and more
Jimmy Taverniti for Women
Jimmy Taverniti for Men
Ariella
Grifflin Paris
Buyer's Footwear Fashion Picks   
Flats for Fall Outfits
Buyers Picks for My Curvy Closet: Our Best Selection in Bra Packs and Panties
Jessica Simpson Girls Coats   
Point Zero Girls
Musical Rockers by Rockabye
Point Zero Boys
New Baby Checklist
Yoki Boots Blowout   
Closet and Vanity Solutions
OGGI Housewares and More
Chandeliers   
Refresh your Home: Walls Done Right   
2 looks for the same price
Wired for Less
Just Like New- Current Trending Vintage
Vintage Louis Vuitton
Vintage Gucci, Celine Ferragamo and more
Olympia   
Pallazo Portofino travel like you've been there

Momo Maternity
Old Soles Kids' Shoes
Momo Maternity
Cozy PJs Feat. Munki Munki
Personalize It Feat. Lex Modern
Adorable Dresses: Up to 80% Off
Modern Classic Rugs
Furniture & Accents Under $300
Top Down Feat. Downright
Redecorate Your Space: Upholstered Furniture
Holiday Decor: White & Bright
Buyers' Picks: Robes & Towels
Fall Entertaining Favorites Feat. Secrets de Provence
Bedroom Style: Updated Traditional
One-of-a-Kind Kantha Pillows & Throws

Kenneth Cole Outerwear
Kenneth Cole Men's Outerwear
Vintage Watches: Rolex & More
Kenneth Cole New York Women's Shoes
Nanette Lepore

Women Badgley Mischka
Burberry  – Sunglasses, Fragrance & More
Shoes Enzo Angiolini
Women Kate Spade
Women Nue By Shani    
…and more! Ideeli posts a full list of their daily sales about 1 to 2 hours before sales start (11am).

Isn't it Grand – Luxe Beds, Seating & More
Inside the Studio – Furniture for the Glam & Rustic Loft
Luxurious Allure – Rugs & Pillows in Black, White, & Gold
On Cloud Nine – Mattress Pads, Bedding Sets, Pillows & More
Mirror, Mirror – Discover Beautifully Detailed Designs
The Quaint Kitchen – Southern-Inspired Serveware & Cookware
Chatham & Briar- Weathered Accents & Eclectic Decor
Clean Up the Cupboards – Storage to Organize the Entire Kitchen
Create a Chic Seating Area – Top Styles & Designer Advice
Mexicana Style – Shop Bright Colors, Bold Prints & More


Foley + Corinna Handbags
Belargo Jewelry
Isabel Marant
Fashion & Function: Watches
By Philippe Delicate Jewelry
Jewel Tones: Dresses, Jumpsuits & More
Casual Uniform: Jeans & Tees
$69 & Up: Handbag Favorites
Dress Up or Down: Basic Dresses
Fall Florals: Dresses & Separates
Stay Warm: Scarves, Capes & Wraps
$40 & Up: The Slip-On Sneaker
Add Some Color: Accessories
Brands We Love: Rebecca Taylor & More
Cozy Sleepwear Essentials
All Black, All the Time: Shoes – starts at 7pm EST!
All Black, All the Time: Dresses & Separates – starts at 7pm EST!
All Black, All the Time: Watches – starts at 7pm EST!
All Black, All the Time: Outerwear – starts at 7pm EST!
All Black, All the Time: Handbags – starts at 7pm EST!
All Black, All the Time: Jewelry – starts at 7pm EST!
All Black, All the Time: Plus-Size Styles – starts at 7pm EST!
All Black, All the Time: Accessories – starts at 7pm EST!
All Black, All the Time: Clothing – starts at 7pm EST!
All Black, All the Time: Shoes & Accessories – starts at 7pm EST!

All About Him – Gifts for the Golfer
Far & Away – Kantha Accessories by Karma Living
Favorite Things – Colorful Ceramic Catchalls
Quiet Elegance – Gustavian-Inspired Furnishings
Behind the Lens- Gray Malin, Kevin Russ & More
The Bed & Bath Boutique -Peacock Alley Linens & More
Brilliant Reflections – The Mirror Market
Long on Style – Runners in Every Hue
Cheers! – The Bespoke Bar Cart
Handmade in New York – Ciner Jewelry – starts at 9pm EST!
Picture-Perfect Gifts – Classic & Colorful Frames – starts at 9pm EST!
Need to Know – Thanksgiving Made Easy – starts at 9pm EST!
Brand We Love – Julia Knight – starts at 9pm EST!
Nature Reserve – Animal Pillows & Decor – starts at 9pm EST!
Farmhouse Living – Vintage Furnishings for the Country – starts at 9pm EST!
Make Yourself Comfortable – Cozy Pajamas & More – starts at 9pm EST!
Vintage Verve- Exotic, Romantic & Traditional – starts at 9pm EST!
Let's Get Merry! Holiday Ornaments, Stockings & More – starts at 9pm EST!

AG Jeans Women
AG Jeans Men
Coach Handbags & Watches
Chunky Knits for Fall: As Seen on the Runway
The Edgy Jackets You Have to Try
The Luxe Raid: Shoe Edition
The Luxe Raid: Men's Shoe Edition
Blush Intimates
Make a Pretty Bed: Floral & Feminine Bed Linens
Max Mara
How Entertaining: Serveware Under $50
Shoes That Steal the Spotlight: Booties & More
King Baby Studio Women's & Men's Jewelry
Everyone Loves Breakfast: Make-It-Right Essentials
Three Ways to Keep Your Ears Warm
English Laundry Men's Dress Shirts & Ties
Gloves or Mittens? Pick your style.
Go Higher: Linens in 500 to 1,200 Thread Count
Picaboo Custom Photo Books, Calendars, & Canvases
Set Your Room's Tone: Rugs by Personal Style
Brooklyn Nets: Barclays Center Suite Seating
Baby Clothing & Gifts: Spoil Your Bundle of Joy
The Do-It-All Dress Spree – 3PM ET
The Stragglers Sale. Just take them off our hands. – 3PM ET
First Boot Sale of the Season: Up to 65% Off – 3PM ET

Deal of the Day: Samsung
BODUM
Holly-Jolly Home
Libbey
CHF Industries
The Northwest Company
BluePrint
STYLEHAVEN
…& lots more! See site for full list of daily sales.
---
*listed sales are not guaranteed and subject to change; always check the sample sale's website for a complete list of all sales & happy shopping!