Good morning, shoppers! Here's everything* happening in the world of online sample sales this Monday, December 22nd…

---
Below is a list of sample sales occurring for today! All sales in bold are sales I'm checking out, and all sales in bold pink are the sales that I think are worth hitting first thing. As with all sales, the sales listed below are subject to change so always check the sample sale individual websites for updates. Happy shopping!

SAMPLE SALE OF THE DAY:
Workweek Chic: Modern Staples Feat. Les Copains – GILT (starts at 12:00pm EST)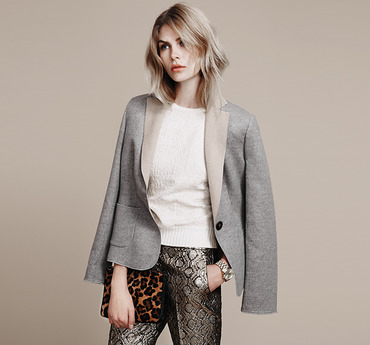 Get free shipping on all orders of $75 – see site for full details!
 Gucci Designer Shoes

Designer Wallets & Small Goods ft. Gucci, Fendi & More

Tom Ford, Miu Miu & More Sunglasses

Dresses Under $100 Dresses
Perfect Skin By La Prairie Skincare
Designer Kids Cold Weather Shop ft. Chloe, Missoni & More
It's Kid's Stuff Bathing & Changing Accessories
Must Try: Holiday Blazers ft. Tommy Hilfiger
Bi-Fold Wallets ft. Gucci, Bottega Veneta & More

Brio and Max Lauren
Look Your Best this Holiday Season   
Firmiana Blue
Dresses Under $29.99   
Designer Dresses   
Sweaters Under $29.99
Designer Sweaters    
Designer Pumps   
Frozen Toys and Blankets
Chic Boudoir   
Home Decor from UMA
Dresses for $19.99
Sweaters Under $19.99   
Curvy Dresses   
Our Favorite Beauty Deals
Pump It Up in the New Year
Organize Your Life    
Essentials for the Party Planner
Gadgets Galore   
Oh My Julian    
On-Trend Handbags by Delavion
Boots & Booties Under 25$
A Leg Affair by French Curve
Frozen T-Shirts   
Nespresso Coffee and Machines   
Kitchen Electrics Blowout

Cutting-Edge Style Feat. Gucci
Workweek Chic: Shoes for Every Office
Saint Laurent Shoes
Di MODOLO Fine Jewelry
Workweek Chic: Modern Staples Feat. Les Copains
Helmut Lang: Up to 70% Off
Delman, Butter & More
Anti-Aging Treatments Feat. Cosmo Skin Solutions
Perfect Stud Earrings
The London Look: Classic Accessories
Easy Outfit: Skinny Jeans + Sweater
Momo Maternity
UberRUSH + Gilt: Last-Minute Gifts
Gucci Kids' Clothes & Accessories
Decals & More Feat. WallPOP
Best for Boys Feat. Scout & Adler
Momo Maternity
Boutique Toys Feat. Morgan Cycle
Best for Girls Feat. Eden & Esme
Frette Bedding & Bath
Candles Under $20
Contemporary-Classic Style Feat. Hewson
The Luxe Table
Plush Bath Essentials
The Neutral Rug
Scandinavian Style: Tabletop
Updated Traditional Furniture & Accents
Complete the Chef's Kitchen

True Religion
Stila Cosmetics
TART
Nine West
True Religion Men

Betsey Johnson – Cold Weather Accessories
Gracia – Starting at $19.99
L.A.M.B.
Lancome – Skincare
Nanette Lepore
Rene Rofe
Home Scented Ambiance
Home Fragrances
Watches Up To 90% Off
…and more! Ideeli posts a full list of their daily sales about 1 to 2 hours before sales start (11am).

Shop a Pure Palette – White-Hued Beds, Tables & More
Nestle Into Bed – Bedding Essentials for the Coldest Months
Treat Your Toes – Seasonal Rugs as Soft as Snow
Define a Small Space – Functional Furniture for Cozy Quarters
Bring Winter Indoors – Wintry Accents & Decor
Embrace the Outdoors – Skis, Sleds & Outdoor Furniture
Bundle Up – Scarves, Boots & Hats for Snowy Days
Share a Warm Meal – Entertain with Serveware & Dinner Plates
Plush Neutrals – Pillows, Rugs & Bedding in Wintry Tones

Urania Gazelli Clutches
Reem Acra
Sonia by Sonia Rykiel

Christian Dior
Calvin Klein Footwear
Torn by Ronny Kobo
Most Wanted: Jeans, Skirts & More
Most Wanted: Tops & Sweaters
Most Wanted: Tall Boots
Most Wanted: Handbags
Most Wanted: Dresses
Most Wanted: Outerwear
Most Wanted: Ankle Boots
orYANY Handbags
Well Carried: Modern Handbags
Missoni
Shoes feat. Sigerson Morrison
Warm Accessories
Handbags feat. Carla Mancini
Spa Day at Home: Skincare & More feat. Avani
Up to 70% Off: Calvin Klein

Most Wanted – Your Art Favorites
In Season – Lanterns, Fire Pits & More
Today's Steal – Lowest Prices on Faux Fur
Pieces That Pop – Standout Furnishings
Fresh Foundations – Bright & Colorful Rugs
It's Not Too Late! – Luxe Lifestyle Concierge Memberships
Vintage Style – Lake Tahoe
Bring It Back – The Va-Va-Voom Vanity
Storage with Style – Boxes, Catchalls & More – starts at 9pm EST!
Finds Under $50 – Stylish Steals – starts at 9pm EST!
A Sophisticated Retreat – Timeless Bedroom Furnishings – starts at 9pm EST!
Hand-Carved Candles – Volcanica – starts at 9pm EST!
In Season – Leather & Hide Upholstery – starts at 9pm EST!
Spotlight On – Flatware – starts at 9pm EST!
A Beautiful Boudoir – Decor for Your Dressing Room – starts at 9pm EST!
Treat Yourself- Throws in All Styles – starts at 9pm EST!
The Well-Collected Home – Chinoiserie & Vintage European Decor – starts at 9pm EST!

 Splendid
Bruno Magli Men
The Ski Sale. Race on in.
The Coolest Extras to Keep You Warm
The Classics Sale: Timeless Steals by Cole Haan
Leggings & Tights: Every Sweater's Best Friend
Robert Graham Men's Resort Clothing
Dress Shirts, Ties, & More Featuring Robert Graham
The Shoes-by-Size Sale. Luxe styles. Crazy prices.
Recipe for Sleep: Crisp Sheets, Cozy Down, & More
Lounge All Day: Robes, Slippers, & More on Sale
Jewels by Lori Kassin
Print & Gift: Boden, Blue Apron, & More – 3PM ET
InCashmere. Now (even more) on sale.- 3PM ET
The Suiting You Don't Own… But Should – 3PM ET

TAHARI & T. Tahari
DEI
An Accessorized iPhone 6
Mamma Chia
The Bar Method
Nellie's All-Natural
Lite Source
A Cushy Walk
…& lots more! See site for full list of daily sales.
---
*listed sales are not guaranteed and subject to change; always check the sample sale's website for a complete list of all sales & happy shopping!