Good morning, shoppers! Here's everything* happening in the world of online sample sales this Saturday, November 22nd…

---
Below is a list of sample sales occurring for today! All sales in bold are sales I'm checking out, and all sales in bold pink are the sales that I think are worth hitting first thing. As with all sales, the sales listed below are subject to change so always check the sample sale individual websites for updates. Happy shopping!

SAMPLE SALE OF THE DAY:
Cinzia Rocca Outerwear  - RUE LA LA (starts at 11:00am EST)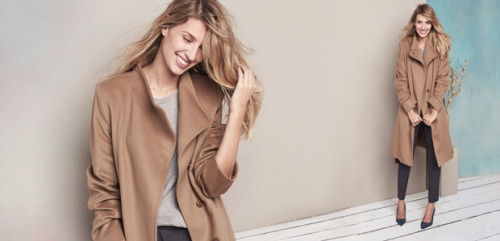 OTHER SAMPLE SALES OF NOTE FOR SATURDAY, NOVEMBER 22ND:


Get free shipping on all orders of $75 – see site for full details!
Penny Loafers ft. Prada, Tod's & More Men's Shoes
Prada Designer Handbags
Most Wanted Bags ft. Tory Burch & More
Best Sellers: Dress You'll Love Dresses
Hostess Gifts $50 & Under Home
Hostess Gifts $25 & Under Home

Prada, Celine, YSL and more
Diamonere
Invicta/Swiss Legend special
Vero Moda
Collezione
Let it Snow, Let it Snow, Let it Snow   
Ride Out The Cold
Just Boot It
Weekend Sweater Styles   
Chic Cold Weather Boutique
Trend Looks in Swimwear
Holiday Sparkle   
Style File Europe   
Heels for Every Outfit
1800-FLOWERS   
Piccolo Bambino and more
Puzzles and more
Entertain in Style
Set the mood – Home illumination   
Triple Threat: Panoramic Triptych Canvas Art
Everything a Man Needs
Luxury Comforter Sets   
Million Dollar Bedding Blowout

Lessons in Layering: Ring it On
Blush Lingerie
Luxury Beauty Gifts featuring Carthusia
201 Winter Wardrobe Staples
Pretty Little Things featuring Monica Rich Kosann
Accessories Spotlight: Heavy Metals
The Trimester Shop
Super Cool Kids' Clothes
Dexton Kids
Gear Essentials featuring Baby Jogger
Color Crush: Our Favorite Holiday Hues
Razor Scooters
Luxe Scents featuring Welton London
Midcentury-Inspired Lighting
Sophisticated Bedding featuring Barbara Barry
Gifts for the Host & Hostess
Dressers & Nightstands
Renovate your Bath
Metallic Moment: Gold Accents

Beauty Stocking Stuffers
Romeo & Juliet Couture
BB Dakota Plus Sizes
Foley + Corinna & More
Loveappella & Modamix Plus Sizes

none at time of posting
…and more! Ideeli posts a full list of their daily sales about 1 to 2 hours before sales start (11am).

Astoria & Woodside – Industrial & Loft-Worthy Furniture
Weave Me a Christmas Tale – Pillows, Rugs & Poufs with Holiday Charm
A Brilliant Choice – Chandeliers, Pendants, Sconces & More
The Blend: Navy & Wood – Rustic Furniture in a Wintry Palette

Kitchen Essentials- Cookware feat. Le Creuset & Rachael Ray

The Lap of Luxury – Glam Pillows, Rugs & Bedding
Aspire – Eclectic & Worldly Accents

The Pre-Turkey Trot – Exercise Equipment for Before (And After) the Feast



9-to-5 Style: Dresses
9-to-5 Style: Handbags
9-to-5 Style: Pumps
9-to-5 Style: Pants & Skirts
9-to-5 Style: Blouses & Blazers
Accessory Favorites: Scarves to Wallets
Under $200: Handbags
Treat Yourself: Luxe Outerwear
Treat Yourself: Luxe Jewelry
Treat Yourself: Lingerie & More
Treat Yourself: Handbags feat. Christopher Kon
The Perfect Boot
Treat Yourself: Melissa, Yosi Samra & More
Winter White Watches
Updated Casual feat. James Perse
Downtown Chic: Leather, Studs & More
Plus Size: Cashmere Basics
Ready for Spin Class: Balanced Tech Pro & More

Get free shipping on orders of $350+, limited time only!
Room to Celebrate – Pieces to Spruce Up Your Space
Designer Exclusive – Holidays with Nathan Turner
Black, White & Blue – Art in a Crisp Palette
The Perfect Escape – Design a Backyard Retreat
In Season – Pies & Pastries
Rug Bazaar – The 48-Hour Rug Sale
Warm Up- Cashmere Gifts for Her
Tried & True – Cook in Copper
Napa to Chianti – Dreaming of Wine Country
Mixed Materials – Richly Textured Pillows & Throws

Saint Laurent
The Men's Power Wardrobe: Saint Laurent & More
Cinzia Rocca Outerwear
Our Jewelry Buyers' Top Picks to Give & Get
DL1961 Premium Denim
Leggings & Tights: A Seasonal Must
How Low Can We Go: The $30 & Under Sale
STEVEN by Steve Madden & More: Must-Have Shoes
Dr. Dennis Gross Skincare
We're Emptying Our Racks: Steals for All
Gym Goals? Crush Them with New Balance & More
Max Mara. Now (even more) on sale.
Invicta Women's & Men's Watches
Keep Hands Cozy in Bold Leather Gloves
Go Off Duty: DL1961 Premium Denim & More for Men
The Bed & Bath Refresh. Click now. Snooze later.
Found: Watches for Everyone on Your List
Sunglasses for Men: Aviators & More
Men's Scarves & Hats: Warm Up Your Commute
Magaschoni. Now (even more) on sale.
Do Vacation Right: Getaway Steals at up to 80% Off
Tag, You're It: Kids' Shoes Featuring New Balance
Hatchery. Artisanal ingredients, delivered monthly.
3 Regal Trees: Peacock, Silver Ice, & Platinum – 3PM ET
Deck the Table: Holiday Stemware to Serveware – 3PM ET
Mrs. Prindable's Gourmet Holiday Treats – 3PM ET
The Monogram Shop: Make It Personal – 3PM ET
Jewelry Boxes & More: Keep Treasures Safe – 3PM ET
Deck the Table: Festive Linens – 3PM ET


Jawbone
Gifts for the Techie
Ad-N-Art
tag
SpaRoom Essentials
Luke Adams Glass
Liberty Bottleworks
OneBellaCasa
Thermalogic & More
Regal Home Collections
Meri Meri
…& lots more! See site for full list of daily sales.
---
*listed sales are not guaranteed and subject to change; always check the sample sale's website for a complete list of all sales & happy shopping!