Good morning, shoppers! Here's everything* happening in the world of online sample sales this Monday, May 25th…

---
Below is a list of sample sales occurring for today! All sales in bold are sales I'm checking out, and all sales in bold pink are the sales that I think are worth hitting first thing. As with all sales, the sales listed below are subject to change so always check the sample sale individual websites for updates. Happy shopping!
SAMPLE SALE OF THE DAY: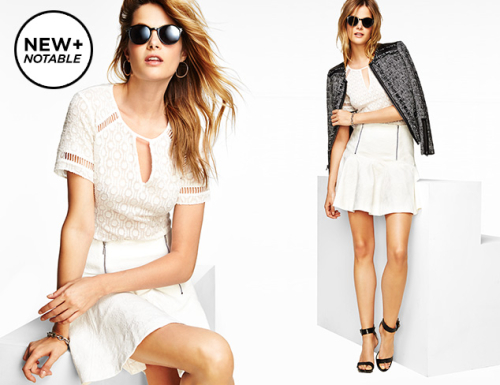 Get free shipping on all orders of $75 – see site for full details!
Memorial Day Clearance: Designer Shoes ft. Jimmy Choo
Memorial Day Clearance: Shoes & Bags ft. Pour La Victoire
Memorial Day Clearance – Sunglasses Under $50
Memorial Day Clearance: Blouses Dresses
Memorial Day Clearance: $50 & Under Skincare ft. Lancome
Memorial Day Clearance: Designer Bags ft. Prada Men's Designer Bags
Memorial Day Clearance: Tees & Shirts ft. Etro Men's Contemporary Suits

Longchamp Cuir Le Pliage
Vera Wang
Tissot & Movado
Satchels
Cross-Body Handbags
Totes
Style Steals from Signorita
Sultry Swimwear
Mlle Gabrielle & more
AffinitasTriple 5 Soul, Coupe & more
Silver & Co.
Roped In
SkinLabo Anti-Aging
Bestselling Beauty
Hamptons-Living Sandals
Seaside Chic
Thursday Friday
Betsey Johnson
Banana Split
Ralph Lauren
Stay Cool with Dyson Fans
White, Grey and Black Bedding
The Bath Shop
Breville
Beautiful Bar
Gold & Silver Art

As Seen On Extra: Beach to Chic
Splendid
Vintage & Luxury Handbag Steals
KEP Jewelry
Missoni
The Letter
White Out: Summer Denim
Step Into Summer: Must-Have Shoes
Memorial Day: Summer Getaway Style
Simply Charming
Bella Bliss for Baby & Kids
aden + anais: Up to 50% Off
Summer Steals for Girls
Smart Is Cool: Educational Toys
Hip Picks for Girls & Boys: Feat. La Miniatura
Frette Bedding & Bath
Surya Pillows, Throws & More
Surya Rugs
Luxe Scents Feat. Thompson Ferrier
Susquehanna Glass Co: Handmade in the USA
nuLOOM Furniture
WMF: Cookware, Cutlery & More
Bath Updates feat. Waterworks
Industrial-Rustic Lighting

Memorial Steals: ViX Swim
Memorial Steals: American Twist Up to 75% Off
Memorial Steals: In Cashmere Up to 75% Off
Memorial Steals: Designer Shoes Up to 70% Off
Memorial Steals: Earrings Up to 80% Off

Activewear – Memorial Day Clearance
Anne Klein Shoes
Men Diesel
Women Diesel
Women Dolce & Gabanna
Evening Dresses – Memorial Day Clearance
Kay Unger & Phoebe by Kay Unger
Outerwear – Memorial Day Clearance
Plus Size – Memorial Day Clearance
Vintage Louis Vuitton
…and more! Ideeli posts a full list of their daily sales about 1 to 2 hours before sales start (11am).

Outdoor Blowout – Save on Outdoor Seating, Rugs & More
The Welcome (Mat) Wagon – Save on Doormats with Color & Charm
Pillow Pairs from $20 -Pillows to Add Color & Pattern

The BIG Barbecue Sale – Grill Presses, Placemats & More

Furniture Steals- Tables, Beds, Chairs & More Under $400
Summer Rug Stock-Up – Exclusive Prices on Our Favorite Rugs
Off-the-Wall Savings – Inspirational & Graphic Wall Decor
Cut Prices, Cut Clutter – Top Deals on Organization
Perfectly Priced Jewels- Necklaces, Earrings & Bracelets
The Sweetest Deal – Cake Plates, Dessert Bowls & More
Style Steal: Lighting – A Brilliant Offer that Can't Be Missed

Style Steal: Seating – Relax with Style (and Savings)
Style Steal: Firepit – A Red-Hot Deal
Style Steal: Umbrella- A Shade-Maker at a Steal
Style Steal: Dispenser – Drink to these Refreshing Deals
Style Steal: Cooler – A Must-Have Pick for Moveable Feasts
Style Steal: Drinkware – Perfect Pricing on a Pitcher, Tray & Glasses
Style Steal: Blanket – Incredible Pricing on a Cozy Throw
Style Steal: Planters – Budding Savings


Sterling Silver Initial Jewelry by Argento Vivo
nOir Jewelry
Classically Chic: Dresses & More
A Perfect Storm: Black & Grey Styles
Make an Impression: Printed Dresses
Layering Basics: Cardigans
80% Off: Designer Clothing
Luxe in Leather: Wallets & Pouches
Joy Gryson Handbags
$15 & Up: Skincare Picks
Rebecca Taylor
Biotherm
Delman
Olympia Luggage
New Markdowns: Watches feat. Philip Stein
Up to 75% Off: Sunglasses
Christina Swimwear
Classically Chic: Footwear
$999 & Under: Designer Handbags

Memorial Day Blowout – Furniture Under $500
Memorial Day Blowout – Magnificent Mirrors
Memorial Day Blowout – Gorgeous Gifts
Memorial Day Blowout – Pillows & Throws
Memorial Day Blowout – Vintage Rugs & Decor – starts at 9pm EST!
Memorial Day Blowout – Rugs for Every Room – starts at 9pm EST!
Memorial Day Blowout – Stylish Accents – starts at 9pm EST!
Memorial Day Blowout – Art for All – starts at 9pm EST!

Head-to-Toe Preppy: From Dresses to Flats
Classic Jewelry & Watches: Perfect the Preppy Look
Mulberry
The LBD: Forever Your Secret Weapon
Lucchese Women & Men
Easy Tees for Laid-Back Summer Outfits
1,000-Thread-Count Sheets & Duvets: All $80
Teched Out for Summer: Wireless Speakers & More
Eva Franco
Watch Picks Under $100 for Women & Men
Aquaswiss Sunglasses
Cycle to Work: Bikes, Helmets, & More
Beach Day Essentials: Pack Everything but the Sand
Dreaming of Summer: Beach-Inspired Throw Pillows
Entertain Outdoors: Unbreakable Melamine & More
Splish, Splash: Azul Swimwear & More for Kids
The Memorial Day Home Sale: Outdoor Living Edition – 3PM ET
Let's Salute Summer: Steals Under $50 – 3PM ET

---
*listed sales are not guaranteed and subject to change; always check the sample sale's website for a complete list of all sales & happy shopping.