Good morning, shoppers! Here's everything* happening in the world of online sample sales this Friday, August 1st…

---
Below is a list of sample sales occurring for today! All sales in bold are sales I'm checking out, and all sales in bold pink are the sales that I think are worth hitting first thing. As with all sales, the sales listed below are subject to change so always check the sample sale individual websites for updates. Happy shopping!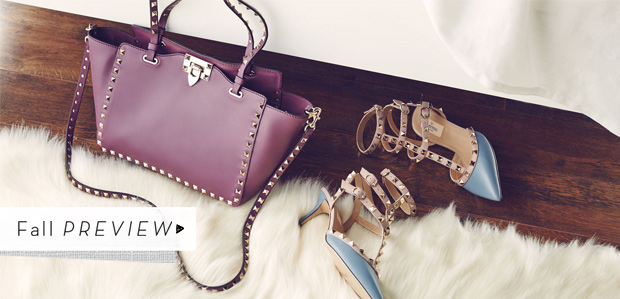 SAMPLE SALES OF NOTE FOR FRIDAY, AUGUST 1ST:


Like Belle & Clive on Facebook and receive an exclusive discount for $40 off of $200 (see site for full details!)
Gucci
Big Buddha Handbags
Golden Touch Watches
Sun Style ft. Fendi Sunglasses
Cocktail Hour Dresses
Iconic Messenger Bags Men's Designer Bags
Dress Shirts Under $100 Men's Designer Dress Shirts

Lug Life
Vintage Chanel   
Attitude Line Dead Sea & Organic Skin Care   
Marc Jacobs, Tommy Hilfiger, Anne Klein and more   
First look at Fall – St. Tropez Knits   
High Fashion for Fall by DIOSA   
Leggings for Fall
Dex Bottoms and more
Step Out In Style: Heeled Boots   
Joana & Paula New to BTR   
Back to Campus: PJ Short Sets and – Regular & full-figured sizes available
IKKS, Thierry Mugler, and Azzaro   
Joe-Ella Fall Dress Preview for Girls    
A Place to Rest Your Head   
Containers for all Your Needs   
Tidy Up and Organize    
Girls' Night Out    
New to BTR : Kelly Jo   
dod: Stay Cool with ShapeOn Shapers –Dress Day   
Date Night Heels    
Ally + Zoe   
Elie Balleh Suits   
Elie Balleh Dress Shirts   
Top Tech Trends
Top Home Trends (Gadgets)    
Batter Up! Baseball Legends   
Gadget Galore    
Furnish Your Man Cave: Kick back and enjoy the weekend   
Blueprints, Vintage Maps and more   
Revamp your Living Room

Vintage Travel Accessories Feat. Louis Vuitton
Stella McCartney Lingerie
Ladies Who Lunch: Designer Dresses & More
Keep Cool: Breezy Dresses
Rock Stars: Natural Stone Jewelry
Matt Bernson, Chie Mihara & More
Classic Combo: Denim & Stripes
Fine Jewelry Feat. Tom Cherin
Lafayette 148 New York
Vintage Rolex
Linda Farrow Luxe Sunglasses
The Summer Shop: Up to 80% Off
Dresses Feat. Beetlejuice: Up to 80% Off
Slumber Party: PJs, Sleeping Bags & More
Birthday Party Essentials
Bold & Bright Rugs
Design Essential: Back to Black
Get Inspired: Design Books
The New Classics
Clear the Air: Fans, Diffusers & More
New to Gilt: Kuhn Rikon Kitchen Essentials
Mobile First Look: Coyuchi Bedding & Bath

Michael Stars
Meghan LA
L.A.M.B. Shoes & More
Beyond Yoga Activewear
Jouer Cosmetics
Julie Brown – starts at 4pm EST!
Bucco – starts at 4pm EST!
Arm Candy: Up To 70% Off – starts at 4pm EST!
Sunny Day Staples: Tees, Skirts & More – starts at 4pm EST!
Hippie Luxe Jewelry Blowout – starts at 4pm EST!
…and more! see site for full listings of all sales.

Shoes Delman
Women Lucy Paris Featuring Olivaceous
Women Miss Finch
Women Tom Ford – Sunglasses
…and more! Ideeli posts a full list of their daily sales about 1 to 2 hours before sales start (11am).

The Everyday Retreat – Bedroom Furniture for your Personal Haven
At Home in the Country – Beds, Cabinets & More with Farmhouse Flair
Flip the Switch – Traditional Lighting with Updated Style
The Softest Sale – Perfectly Priced Rugs, Throws & Pillows
Under the Stars – Outdoor Lanterns, Fire Pits, Tables & More

Today's Traditional – Classic Accents, Clocks & More for the Contemporary Home

Put into Words – Express Yourself with Typographic Wall Art

Fixture Fixation – Bathroom Hardware, Tiles, Accessories & Linens
Rosemore & Redding – Rustic & Shabby Accents
Ruched & Ruffled – Feminine Bedding, Pillows & Throws


Just In: His & Hers Fragrance Picks
J Shoes

House of Harlow 1960

RAFE NEW YORK Bags & Accessories

Rockport
Dresses by Muse, Donna Morgan, Taylor & More
Up to 80% Off: Poolside Picks
Date Night Ready: Tops & Dresses
$49 & Under: Dresses

New Markdowns: Designer Handbags

New Markdowns: Designer Shoes

Shop by Shape: Wayfarer Sunglasses
Nautica Bedding & Bath
Torre & Tagus
One-of-a-Kind Rugs: Heriz Edition
Traveler's Finds: Décor Accents
Light & Airy: Bedding in Soft Hues
LED Lighting Favorites
Last Look: Leather & Steel Home Shop
Last Look: Modern Materials Home Shop
Fouta Towels

My Summer Style – The Perfect Picnic with Design*Sponge
Escape to Marrakech – Decor Inspired by Morocco
Color Crush – Gifts in Turquoise & Coral
Fouta Towels, Table Linens & More – Scents & Feel
East Meets West – Lively Kitchenware by Typhoon
A Seasonal Touch – Table Linens for Summer Settings
In Mixed Company – Furnish an Eclectic Dining Space
Timeless Pieces – The Fine Jewelry Boutique
Alfresco Afternoons – Picnic at Ascot
Sun-Drenched Rooms – Furnishings with a Palm Beach Vibe
Outside the Box – Vintage Wall Decor

Valentino
Elizabeth McKay
Details, Details: Jewelry & Watches for Her & Him
Excuse to Party: Dresses, Heels, & Jewelry
Lole Yoga & Active Clothing
Isola
Peacock Alley
Gucci & More: Trending Bucket Bags & Backpacks
Neutral Furniture 3 Ways: Upholstery, Wood, & More
Eva Franco. Now (even more) on sale.
Davek Umbrellas

The Littlest Joys: Baby Apparel
Nautical Life: Kids' Boutique
Chip off the Old Block: Daddy & Me
Princess Linens: Mommy & Me
Family Fun Day Toys
Wiggy Studio
Fashion Friday: Black & White Dream
Modern Sweetheart: Girls' Apparel
Funkyberry
Magformers
Sprout Foods
Mud Pie & More
Get Outside: Running (Women's)
Back to Gym Class: Loungewear
Full Spectrum: Women's Apparel
Color Hour: Fashion Watches
Nick & Mo
BOBS from Skechers
Pointehaven  Bedding
Away from Home: Dorm Bedding
Nifty Home Products
Happy Tails: Pet Essentials
Live Love Studio
& lots more! See site for full list of daily sales.
---
*listed sales are not guaranteed and subject to change; always check the sample sale's website for a complete list of all sale